Check out what's happening in Brooklyn this April. We've rounded up some of the best events for children and families, including an Easter egg hunt, Earth Day activities, and kid-friendly shows.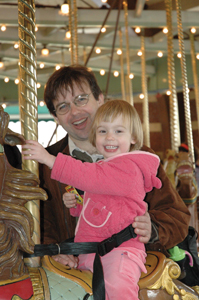 Merrily We Go 'Round
The painted ponies go up and down as the Prospect Park Carousel opens on April 2. The Park's vintage carousel dates to 1912, and everything about it is nearly original. Come celebrate the onset of spring and warmer weather with a ride on this special piece of history. Open noon-5pm. $2 per ride; $9 book of five tickets. Prospect Park, Flatbush Avenue Children's Gate entrance. 718-965-1190.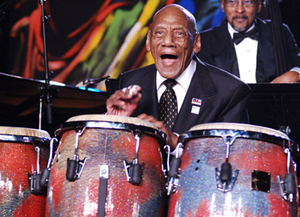 Conga-tulations
Candido, one of the masters of Afro-Cuban percussion, turns 90 this month. He has been credited as the first person to use conga drums on a jazz record, and as introducing America to Afro-Cuban sounds and rhythms, and ushering Latin flavors into jazz and other styles. In addition to his own recordings, Candido has recorded with many of jazz's brightest lights. Join this conga legend during a Drumming Workshop with Candido and Friends, when he will explain and demonstrate the various instruments and grooves that have made him so important. Stick around for a performance later that evening when Candido teams up with Chico O'Farrill's big band. April 7. 5pm. FREE. Brooklyn Public Library, Central Branch, 10 Grand Army Plaza. 718-230-2100.
A Bridge Between Cultures
Fueled by a powerful voice, the command of her guitar, stalwart optimism, and undeniable charisma, Argentina native Suni Paz sings to raise consciousness about social justice issues. She has performed in hospitals and classrooms, at political rallies, and on concert stages, and now she comes to Symphony Space to sing for children. Her songs, many from Latin America and the Caribbean, are interactive and beckon her audiences to clap and sing along. Listeners take away a sense of cultural empowerment, self-awareness, and hope. April 9. 11am. $19; $13 children. Symphony Space, 2537 Broadway, Manhattan. 212-864-5400.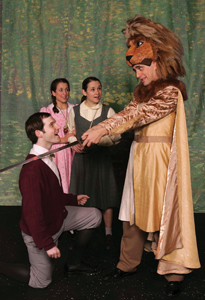 Enter the Wardrobe
Enter the land of Narnia when The Lion, the Witch, and the Wardrobe comes to Brooklyn. Exciting adventures come to life in this musical adaptation of the C.S. Lewis classic in which four siblings enter the fabled land of Narnia through a magic wardrobe, embarking on a heroic and perilous quest to defeat the evil White Witch and return the great King Aslan to the throne. April 10 at 2pm. $7 at the door; $6 in advance. Brooklyn Center for the Performing Arts, 2900 Campus Road. 718-751-4600.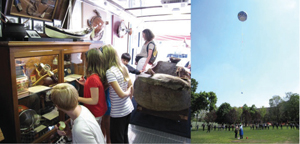 Save the Planet
Earth Day officially happens on April 22, though its compost heap runneth over to many April weekends. Several nearby Earth Day events promise to be fun and particularly educational, teaching ways to be simultaneously urban and environmentally aware.
One such event is the Urban Divers' Earth Day Celebration in Red Hook, during which a giant balloon shaped like Earth will be launched 100 feet into the atmosphere. There will also be a host of entertainment and educational opportunities. The group's particular focus is the waterways in and around New York City. April 23 at 1pm. All ages. FREE. The Urban Divers EnviroMediaMobile, IKEA/Erie Basin Park. 347-224-5828. www.emmredhookpirates.blogspot.com.
One can take advantage of Prospect Park's wilderness during its Earth Day Weekend, which delivers educational activities, performances, and crafty activities. The Park really goes to the birds this month as well, so consult the calendar for many things to do. April 23. 1-4pm. All ages. FREE. Prospect Park Audubon Center, Willink entrance, 718-965-1190.
Meanwhile, Brooklyn Children's Museum acknowledges Earth Day with music as it welcomes songwriter/performer Patricia Shih in a concert dubbed Big Idea About the Environment. Shih will be honoring Earth in her songs as she examines what we can do to make the world cleaner and safer. April 17. 1pm and 2pm. All ages. FREE with $7.50 museum admission. Brooklyn Children's Museum, 145 Brooklyn Avenue. 718-735-4400.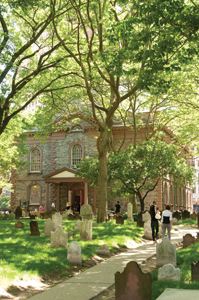 Get Eggstatic
Trinity Church, on lower Broadway in Manhattan, is as old New York as you can get. Its leadership sided with the British during the American Revolution, and Alexander Hamilton had a private pew there back when a pew was the thing to have. Although the congregation dates to the late 1600s, the actual building was erected in the early 19th century. For its Easter festivities, toddlers can hop down the churchyard's bunny trails and search for eggs, while children over 5 can participate in a scavenger hunt, with prizes awarded at the end. There will also be music, games, and arts and crafts, all surrounded by some amazing history. April 24. 12:30-3:30pm. FREE. Trinity Church, Broadway and Wall Street, Manhattan. 212-602-0800.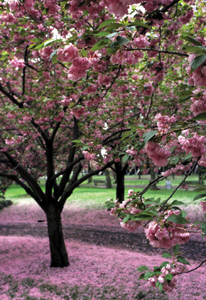 Cherry Blossom Time
Known in Japan as sakura, the cherry tree is the stuff of legend, symbolizing love, bravery, Japanese spirit, and on a very deep level, life's impermanence. The latter is based on the cherry blossom's habit of blooming seemingly overnight with gorgeous, cloud-like flowers tinged with pink. And almost as quickly, they're all gone; the tree loses its petals within a week, providing a perfect lifecycle metaphor that has infused Japanese poetry and art throughout history. Then there's the tradition of hakura, a picnic beneath the trees while they're in full bloom.
The Brooklyn Botanic Garden has dozens of sakura in the garden's Cherry Esplanade. Each year as the trees blossom, the garden hosts the Sakura Matsuri Cherry Blossom Festival, which serves as a veritable rite of spring. This event features more than 60 events, with Japanese music and dance, daiko drumming, tea ceremonies, and workshops for all ages. April 30-May 1. All ages. $8; $4 seniors and students with ID; FREE children under 12. Brooklyn Botanic Garden, 900 Washington Avenue. 718-623-7200.
Also see: March of Dimes' March for Babies in the New York Metro Area
Our Online Calendar, for even more upcoming family events in Brooklyn and the New York metro area