Artist Donato Giancola, a father of two from Boerum Hill, designed and painted two new Forever Stamps for the US Post Office depicting astronaut Alan Shepherd and NASA's MESSENGER mission, both of which celebrate 50 years of American space exploration.

Giancola's Forever Stamps celebrate NASA's Mercury Project (left) and MESSENGER Mission (right).
Two new postage stamps went on sale May 4, celebrating 50 years of American space exploration, including Alan Shepherd's historic flight on May 5, 1961 and NASA's unmanned MESSENGER mission that investigates the planet Mercury.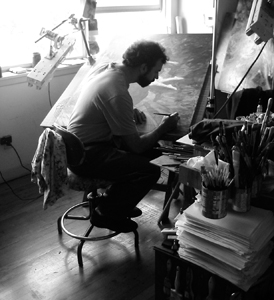 Titled "Alan Shepard: First American in Space" and "First Spacecraft to Orbit Mercury," the pair of Forever Stamps were designed and painted by Boerum Hill artist Donato Giancola, who used both NASA photos and the Mercury Capsule on view at The New York Hall of Science as references. Like all of Giancola's paintings, the stamps were rendered in oil.
As Forever Stamps, these stamps will always be equal to the current First-Class Mail one-ounce price.
Giancola, a father to two daughters who teaches at New York's School of Visual Arts, is well known in science fiction and fantasy circles for his meticulously painted illustrations, which includes cover art for The Lord of the Rings by J.R.R. Tolkein as well as numerous games and trading cards. The stamp images are representative of Giancola's most recent paintings that go beyond traditional sci-fi subjects to depict humans relating to their changing environment.
"It is an honor and thrill to have created these stamps celebrating space exploration and technology through individual achievements and the hard work of countless engineers and scientists," says Giancola, 44, who grew up in the dawn of the Space Age. "Astronauts like Alan Shepard have inspired a new generation to push the limits of our science and make the dreams of the future a reality."
Giancola, pictured in his Boerum Hill studio, also painted the astronaut-themed "Prometheus," a seven-by-eight-foot image that celebrates human achievements and advancements that's currently on view at The New York Hall of Science. The success of that painting led him to create a series of space-themed stamps for the United Nations Postal Administration.
For more information on Giancola and his work, visit www.donatoart.com.