Check out these great activities and events for children and families scheduled during the month of June in Brooklyn. Whether you're looking to celebrate Father's Day, catch a kid-friendly show, or just enjoy the great outdoors, we've got all the information a Brooklyn family needs.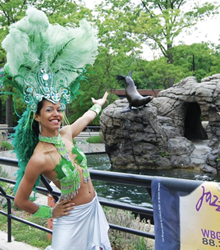 Jazz It Up In June
The Heart of Brooklyn brings harmonious sounds to the borough with Jazz: Brooklyn's Beat, a month-long celebration featuring jazz performances at six of Brooklyn's best cultural institutions. All events are family-friendly and either completely FREE or free with admission.
Started in 2007, Jazz: Brooklyn's Beat is a collaboration between eight cultural non-profits to bring jazz artists from around the globe to Brooklyn. The series celebrates Brooklyn's diversity with indoor and outdoor concerts, dances, interviews and more, and presents performances in some of the borough's most vibrant venues: the Brooklyn Botanic Garden, Brooklyn Children's Museum, Brooklyn Museum, Brooklyn Public Library, Prospect Park and Prospect Park Zoo.
On June 5 at noon, kids can "Samba with the Sea Lions" at the Prospect Park Zoo. "Conversations in Jazz: Hank O'Neal" takes place June 10 at 7pm at the Brooklyn Public Library's Dweck Center. Stephane Wrembel - The Django Experiment performs as part of the Centennial Bee-Day Celebration at Brooklyn Botanic Garden, June 12 at 1:30pm and 2:30pm. The Helen Sung Group with guest vocalist Carolyn Leonhart performs June 19 at 1pm and 2pm at the Brooklyn Children's Museum. On June 26, Rhythm Revue with Felix Hernandez plays a concert at 4pm at Prospect Park's Grand Army Plaza. Finally, on June 27, enjoy a Sunday jazz session as Jaleel Shaw Quartet plays at the Brooklyn Museum at 3pm. For more information, visit www.heartofbrooklyn.org.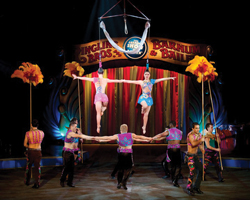 Get Set to Illuscinate!
Ringling Bros. and Barnum & Bailey returns to the Brooklyn boardwalk with its newest show, The Coney Island Illuscination! Once again, Ringling Bros. sets up its summer residence in an air-conditioned tent on Surf Avenue and West 21st Street. Last year, when the circus first came to Coney Island, over 160,000 people attended the greatest show on earth right at the beach.
This summer offers a fantasy-filled world where magic and daring create unexpected experiences. Illuscinator David DaVinci takes audiences to a world that combines eye-popping illusions, mind-blowing transformations, and unique up-close magic. One of the highlights will be his attempt to escape a straightjacket while suspended three stories in the air above a den of lions. DaVinci is also the only Illuscinator who performs with a feathered flock of 10 rare and colorful birds, including a toucan, African grey, cockatoos, and macaws. Other performers include Viktoriya and Widny, the Hairdaring Duo, who execute an extreme hair suspension 35 feet in the air, and the Sky-High Sensation, Francleib Rodrigues, a daredevil who walks upside down across the ring three stories above the audience - without a safety harness. And it wouldn't be a circus without the clowns, so the Clowning Caveagna Family will present laughs and antics.
Ninety minutes before show time, visit the Animal Open House followed by the All Access Pre-show (FREE to all ticket holders), where kids can meet Ringling Bros. performers and animals and learn circus skills. The show runs Wednesdays, Thursdays, Fridays, Saturdays, and Sundays, June 17 through September 6. Tickets start at $10. Visit www.ConeyIslandFunGuide.com for more information.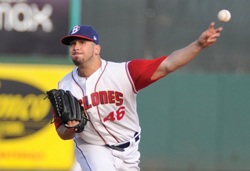 Play Ball, Brooklyn Style
Catch the Brooklyn Cyclones' 2010 season home opener on June 19 at 6pm. As customary, the first game pits the Cyclones against cross-town rivals, the Staten Island Yankees. The best part about Cyclones games is that they are so family-friendly. On many dates, kids can run the bases and fireworks follow the game. Every Tuesday home game this summer is "T-shirt Tuesday." Each night, special limited-edition T-shirts will be given to the first 2,500 fans in attendance; June 22 is a "10 Seasons" tee with a T-shirt commemorating the Cyclones 10th season this year. $8-$17. MCU Park, 1904 Surf Avenue. 718-37-BKLYN, www.brooklyncyclones.com.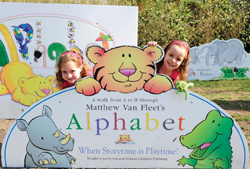 Wild Stories and Songs
Animal Tales Extravaganza is back with another month of live music from the top names in children's entertainment and readings from award-winning children's authors. Meet some of your favorite authors, like Holly Hobbie and Alex Beard, as they read their stories about animals. See top-rated children's entertainment like The Fuzzy Lemons and The Shushybyes perform their original music. Larger-than-life, interactive displays based on children's classics like The Very Hungry Caterpillar by Eric Carle allow children to walk through their favorite animal stories and experience them in a completely new way. Every weekend in June. $11-$15. The Bronx Zoo, 2300 Southern Boulevard, Bronx. 718-220-5100. www.bronxzoo.com.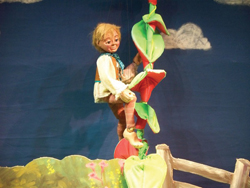 A Classic Tale
Don't miss Jack and the Beanstalk at Puppetworks in Park Slope, every Saturday and Sunday in June at 12:30 and 2:30pm. This kid-friendly production features a "live" giant and original musical song score, adapted for Marionettes by Nicolas Coppola.
Ages: TOD, YE. Ticket prices: $8 adults; $7 children. 338 Sixth Avenue. For more information: 718-965-3391 or www.puppetworks.org.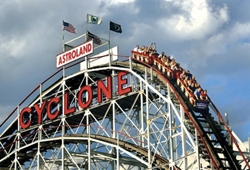 Ride The Cyclone
Take a ride on one of the world's most famous rollercoasters! The Cyclone is open daily all summer through September 6, then weekend throughout September, 12pm-closing (hours depend on the weather). You must be at least 54" tall to ride The Cyclone.
A trip to Coney Island also includes the beach, Boardwalk, Aquarium, and tons of games and prizes. The Cyclone is located at 834 Surf Avenue. For more information, call 718-265-2100 or visit www.coneyislandcyclone.com.