Check out these great activities and events for children and families scheduled during the month of May in Brooklyn. Whether you're looking to celebrate Mother's Day or Memorial Day, catch a kid-friendly show, or enjoy the great outdoors, we've got the information a Brooklyn family needs.
Blossoms Flourish
Brooklynites know that if it's spring in Brooklyn, then the annual Cherry Blossom Festival must be underway. For over 25 years, the Brooklyn Botanic Garden has entertained one of the largest cherry blossom festivals in the country. Since these delicate blossoms only last for a short time, they are meant to celebrate the fleeting joys in life. The Japanese tradition of viewing cherry blossoms throughout the season culminates with pink blossoms that fall like snow under the Garden's cherry blossom canopy and at its cherry blossom festival, Sakura Matsuri. Visitors learn about Japanese culture, both traditional and contemporary, with more than 60 performances, demonstrations, and exhibits of music, dance, martial arts, and manga and anime art.
For the kids, activities include origami fun, creating blossoms out of recycled materials, a kodomo hanagasa odori (flower hat parade), taiko drumming, hands-on workshops for kids, Sakura Tatoo Parlor, and more. Other favorites include classical dance by Sachiyo Ito, tea ceremonies, ikebana flower arranging, a performance by taiko drummers and rhythmic tap dancers COBU (founded by and featuring members of STOMP!), the return of Samurai Sword Soul and its original action dramas, and concerts by Brooklyn-based Japanese gypsy rock band Kagero and Okinawan-pop luminaries happyfunsmile.
May 1 and 2, 10am-7pm. $15; $10 seniors/students; free children under 12. www.bbg.org/exp/cherries or 718-623-7200.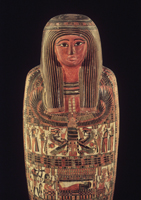 Mummies and More
The Brooklyn Museum's new exhibition, The Mummy Chamber, opens May 7. This long-term installation of more than 170 objects from the Brooklyn Museum's world-famous holdings of ancient Egyptian material explores the complex rituals related to the practice of mummification and the Egyptian belief that the body must be preserved in order to ensure eternal life. On view are the mummy of the Mayor of Thebes, Pa-seba-khai-en-ipet; the mummy of Hor, encased in an elaborately painted cartonnage; and a twenty-four-foot-long Book of the Dead scroll. Age: All. Free with museum admission. 200 Eastern Parkway. 718-638-5000. www.brooklynmuseum.org.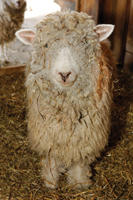 Shear Family Fun
The Prospect Park Zoo's sheep and alpacas may be looking quite fluffy these days, but that won't last for long. To help these wooly animals stay cool all summer, their thick coats will be cast off at the Wildlife Conservation Society's Prospect Park Zoo's annual Fleece Festival. The fleece-filled weekend features sheep-themed crafts and live music, but the highlight of the weekend will be watching the shearers in action.
Professional shearers will guide visitors through the shearing step-by-step, while local artists discuss the many uses of wool. Other activities include "Baaaing to the Beat," which lets visitors listen up for some good old-fashioned country music. "Wooly Wonders at the Barn" has local artists teach visitors wool carding, finger knitting, and other artistic techniques. In "Get Crafty," kids celebrate sheep by making their very own headbands adorned with sheep cut-outs. Families can chat with keepers throughout the day.
The Fleece Festival runs Saturday-Sunday, May 8-9, 12-4pm. FREE with admission: $7, $4 seniors 65 and older, $3 kids 3-12, free children under 3. 10am-5pm weekdays; 10am-5:30pm weekends. Prospect Park Zoo, 450 Flatbush Avenue in Prospect Park. 718-399-7339; www.prospectparkzoo.com.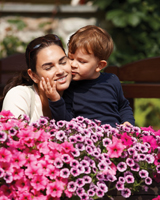 Celebrate Mother's Day!
May 9 is the day to soak up those adorable smooches and enjoy your annual breakfast in bed; but after that, check out all these great Mother's Day events taking place in our beloved borough.
Mother's Day Spring Fling: This Mother's Day event features musical guest AudraRox playing a rocking set for families, followed by children's book author and illustrator Betsy Lewin, reading from Click, Clack, Moo. The Transit Museum offers arts and crafts activities. The Brooklyn Children's Museum hosts an activity table, Karma Kids Yoga facilitates parent-child yoga, and The Moxie Spot makes Mother's Day cards. 10am-5pm. FREE. Brooklyn Bridge Park, 1 Main Street. 718-802-0603. www.brooklynbridgepark.org.
I Love My Mommy: Kids ages 5 and under spend a lovely afternoon reading stories and singing songs to the special woman in their life. Then they create a beautiful flower and decorate a card to express how much they love her. 2:30-3:30pm. FREE with admission. Brooklyn Children's Museum, 145 Brooklyn Avenue at St. Marks Avenue. 718-735-4400. www.brooklynkids.org.
Mother's Day Duathlon: Sporty moms treat themselves to a 3.5-mile bike course that spans Brooklyn's only forest and passes wonderful waterfalls, heads to the Nethermead and East Wood Arches, goes through Cleft Ridge Span Tunnel, over the Binnen and Esdale Bridges, and in and around the Long Meadow. 8am. $75 through May 5; $80 after. Prospect Park, Wollman Rink (East Drive and Lincoln Road). 718-287-3400. www.prospectpark.org.

Mother's Day Flowers: Kids ages up to age 12 make Mom a beautiful bouquet of paper flowers. 11am. FREE. Fort Greene Park, Myrtle Avenue and Washington Park. www.fortgreenepark.org.
Mother's Day at the Zoo: Enjoy a special Mother's Day at the zoo. Today Moms get FREE admission. 10am-4:45pm. Staten Island Zoo, 614 Broadway, Staten Island. 718-442-3101. www.statenislandzoo.org.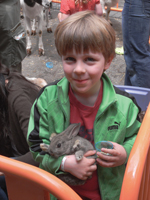 Families First Spring Carnival
The Spring Carnival on May 16 features fun for the under 5 crowd, including a bouncy castle, animals, carnival games, arts and crafts, face painting, music, food, and refreshments. Proceeds benefit Families First's programs for families with young children. 10am-3pm. 250 Baltic Street. www.familiesfirstbrooklyn.org.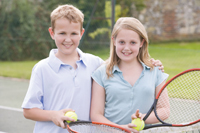 Free Tennis Programs for Kids
If your child loves tennis, the New York Junior Tennis League (NYJTL) begins its annual Spring Community Tennis Program by providing FREE tennis lessons, tennis equipment, competition, and special field trips to children ages 6-18 at various locations throughout Brooklyn (and New York City).
The program runs through June 27. Children can sign-up at any NYJTL location during the season; a parent or guardian must register in-person with their child at the location they choose to attend. No registration deadline.
See below for locations. For newly added locations and more information, visit www.nyjtl.org.
McDonald Park Youth Tennis Center
McDonald Avenue (between Avenue S and Avenue T)
Monday-Friday 3:30-6:30pm; Saturday 9:30-4:30pm.
7601 19th Avenue
Opens May 3. Monday and Tuesday 3-6pm.
1400 Benson Avenue
Opens May 3. Wednesday and Thursday 3-6pm.
18 Marlborough Road
Opens May 3. Monday-Friday.
Jamaica Avenue and Elton Street
Opens May 3. Monday-Friday.
I.S. 211/Wilson Playground
1001 East 100 Street
Opens May 3. Monday-Friday.
1599 East 22 Street
Opens June 1. Monday-Friday.
For even more family-friendly events and activities, visit our Online Calendar.