Chinese New Year Celebrations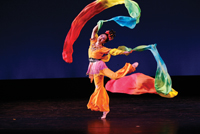 Lively Arts at Kingsborough performance series presents the Nai-Ni Chen Dance Company, back by popular demand. The performance celebrates the Chinese Lunar New Year (Year of the Tiger) with festive music and dance, the agility of martial arts, and the beauty of colorful twirling ribbons and silks. The company is headed by Nai-Ni Chen, an Asian-American choreographer who blends American modern dance with the discipline of the Chinese classical arts. The show runs 90 minutes and is recommended for ages 3 and up. Saturday, January 16, 2pm. $15; $12 college students and seniors; $10 Arts Lover subscriber. Leon M. Goldstein Performing Arts Center at Kingsborough Community College, 2001 Oriental Boulevard. 718-368-5596. www.kbcc.cuny.edu/events.
Big Hair, Big Heart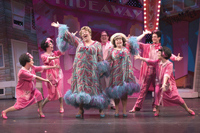 Pleasantly plump teen dance queen Tracy Turnblad steals the stage at the Brooklyn Center for the Performing Arts this month as the star of the hit Broadway play, Hairspray, the eight-time Tony® Award-winning musical comedy. Set in 1960s Baltimore, the story follows plus-sized trendsetter Tracy on her quest to dance on "The Corny Collins Show" and win the heart of heartthrob Link Larkin, all while standing up for what she believes in (and without putting a dent in her diva-ish 'do). Joining Tracy will be a colorful cast of characters and a soundtrack of "deliriously tuneful" numbers the whole family can enjoy. For more information on the show, visit www.HairsprayOnTour.com. January 24 at 3pm. $40, $30. Brooklyn Center for the Performing Arts, Walt Whitman Theatre, 2900 Campus Road, Brooklyn College. 718-951-4500. www.brooklyncenteronline.org.
Calling All Beatlemaniacs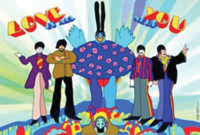 BIG Movies for Little Kids presents a rare screening of the wildly creative, family-friendly film The Beatles' Yellow Submarine at Cobble Hill Cinemas, January 25 at 4pm. This award-winning, 90-minute film offers a vivid look back at the psychedelic pop culture of the late 60s. Parents, come sing along with your kids to the classic, song-studded soundtrack. Advance ticket purchase recommended; tickets available at the cinema's box office or www.cobblehilltheatre.com. Age: All. $6.50. 265 Court Street at Butler Street. For more information, visit www.bigmoviesforlittlekids.blogspot.com.
Aspiring Artists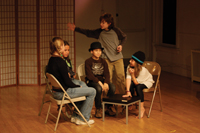 The YOUTHWORKS 2010 Showcase at BAX is a two-day event featuring the original performance work of children ages 7-18. The showcase, now in its 18th year, is the culmination of an eight-week creative process during which these aspiring young artists work on their own and with professional coaches to fully develop their original works of performance art. Past performances have included plays, dances, poetry in performance, original songs, and a movie short. Acts may be individual or a group collaboration, and all works run about 10 minutes or less. Appropriate for all ages. $8; $5 low-income. Saturday, January 30 at 7pm; Sunday, January 31 at 5pm. Brooklyn Arts Exchange, 421 Fifth Avenue. 718-832-0018. www.bax.org.
Arty Facts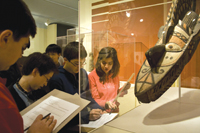 Children ages 4-7 can explore works of art, enjoy a gallery activity, and make their own art during Arty Facts: "Bodies and Faces" at the Brooklyn Museum, 11am and 1:30pm each Sunday in January. This month, participants will observe many sculptural fragments from the special exhibition "Body Parts: Ancient Egyptian Fragments and Amulets." Age: YE, AD. $10 per family; $5 Gallery/Studio families. 200 Eastern Parkway. 718-638-5000. www.brooklynmuseum.org.
Four Decades of Bert, Big Bird, and the Whole Gang
Happy birthday, Sesame Street! The Brooklyn Public Library (BPL) has partnered with Sesame Workshop to commemorate the 40th anniversary of Sesame Street with a three-month exhibition at its Central Library branch. Sesame Street: A Celebration of 40 Years of Life on the Street explores the beloved show's history and the impact it has had throughout its run. You'll find show scripts, sheet music, original book art, behind-the-scenes photographs, show props, and a few famous Muppets. On view through February 21. FREE. Central Library, 10 Grand Army Plaza. 718-230-2100. www.brooklynpubliclibrary.org.
In conjunction with the exhibit, BPL is offering 30,000 Elmo-themed, limited-edition library cards and 100,000 limited-edition Sesame Street bookmarks, available at all 60 neighborhood branches while supplies last. BPL will also be offering Sesame Street themed family programs and events in January and February, in library locations throughout the borough. Check www.brooklynpubliclibrary.org for updates.