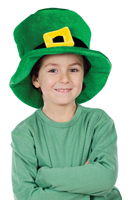 Celebrations in Green
Join in the fun this St. Patrick's Day with these family-friendly events.
Shenanigans with Pat & Mike: Listen to and sing along with some Irish drumming and guitar playing. Learn about the bodrhan (a traditional Irish drum), make music with spoons (used on the thighs), and enjoy a variety of traditional tunes. March 13 at 2pm. $6; FREE children under 1. Snug Harbor Cultural Center, 1000 Richmond Terrace, Staten Island. 718-273-2060. www.statenislandkids.org.
Riverdance: 15th Anniversary Farewell Tour at Radio City Music Hall: The performance is a thunderous celebration of Irish music, song, and dance that has tapped its way onto the world stage, thrilling millions of people around the globe. March 17 and 20 at 2pm and 8pm; March 18 and 19 at 8pm; March 21 at 1pm and 7pm. $39.50 and up. 1260 Sixth Avenue, Manhattan. 212-307-7171. www.radiocity.com.
In honor of St. Patrick, visitors to the Snug Harbor Cultural Center can play with some green clay on March 17, 1:30-3:30pm; whip up some Irish dishes like oatmeal cookies or Irish stew each Friday in March at 2pm, 3pm, or 4pm; or make their own charm during Celtic Craft Design on March 6, 7, 20, and 21 at 1pm, 2pm, or 3pm. $6; FREE children under 1. Snug Harbor Cultural Center, 1000 Richmond Terrace, Staten Island. 718-273-2060. www.statenislandkids.org.
And don't miss one of these festive parades:
Staten Island Saint Patrick's Day Parade: March 7 at 12:30pm. Starts at Hart Boulevard and Forest Avenue on Staten Island.
Brooklyn Saint Patrick's Day Parade in Park Slope: March 14 at 1pm. Starts at Prospect Park West and 15th Street.
New York City's 249th Annual Saint Patrick's Day Parade: March 17 at 11am. Starts at 4th Street and Fifth Avenue in Manhattan; marches up Fifth Avenue to 86th Street.
Bay Ridge Saint Patrick's Day Parade: March 28 at 1pm. Starts at 95th Street and 4th Avenue, in front of St. Patrick's R.C. Church.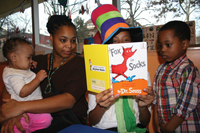 Reading Fun for Everyone
In honor of the late, great Dr. Seuss' birthday on March 2, the National Education Association (NEA) will sponsor its 13th annual Read Across America day, a motivation and awareness program that calls for every child in every community to celebrate reading. The goal is to instill a love of reading in children that will lead to lifelong success.
The following weekend, the Brooklyn Children's Museum will host a variety of Seuss-inspired programs for kids, combining reading with fun, hands-on activities. Events include Happy Birthday, Dr. Seuss!, a special program in the museum's Blooming Babies Series for ages 18 months-2.5 years. Tots can sing "Happy Birthday" to Dr. Seuss and spend the morning listening to some of the author's beloved tales. Afterwards, they can create their very own super Seuss-tastical party hat to take home. March 5 and 6, 11:30am-12:30pm.
Kids ages 6 and up can Celebrate Dr. Seuss' 106th Birthday with a special workshop in the World Passport Workshop Series, where they can listen to Seuss favorites, make a Seuss hat, and compose their own Seussical poem. March 6 and 7, 11:30am-12:30pm.
Programs are included with admission price: $7.50, FREE children under 1. 145 Brooklyn Avenue at St. Marks Avenue. 718-735-4400. www.brooklynkids.org.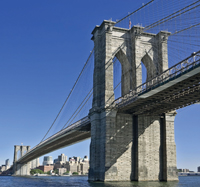 Make a Miniature Model
The Brooklyn Heights Association and the Center for Architecture Foundation are hosting a Brooklyn Bridge Art making project. Families with children ages 6-12 are invited to discover some of the bridge's secrets, then make a model of the Brooklyn Bridge to take home. Pre-registration required; visit www.cfafoundation.org/index.php?section=events&evtid=755. March 6, 1-4pm. Suggested donation: $10-$15 per family. 128 Pierrepont Street. 718-222-4111. www.cfafoundation.org.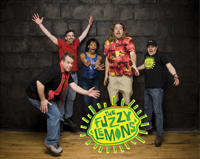 Causing a Scene
Check out some highlights happening on stage this month.
The Fuzzy Lemons, dubbed "The Grateful Dead for Kids," will perform a Family Rock-N-Roll Party at the Knitting Factory. Every show includes audience participation and a chance to get up so you can wiggle, giggle, and sing along. March 13 at 3pm. $10 per child; free for adults. 361 Metropolitan Avenue. 201-355-9167. www.thefuzzylemons.com.
Brave New World Repertory Theatre presents an exciting adaptation of the Arthur Miller classic The Crucible, directed by Claire Beckman, at the Old Stone House of Brooklyn. Reservations required; go online to www.bravenewworldrep.org or call 718-768-3195. March 4, 5, 11, and 12 at 8pm; March 6 and 13 at 2pm and 8pm; March 7 and 14 at 7pm. $18. 336 Third Street. 718-768-3195. www.theoldstonehouse.org.
The National Dance Theatre Company of Jamaica performs at the Brooklyn Center for the Performing Arts. This Caribbean group blends the lore, music, and dance of Jamaica, Africa, and the American South with modern and classical dance forms to create a wildly colorful celebration of West Indian culture. March 6 at 8pm; March 7 at 2pm. $30-$40; half price children under 18. Brooklyn College, 2900 Campus Road. 718-951-4500. www.BrooklynCenterOnline.org.
Theatre Sans Fil brings J.R.R. Tolkien's award-winning story, The Hobbit, to life with more than 50 life-sized puppets, including Bilbo Baggins, the wizard Gandalf, and their dwarf friends, not to mention a 25-foot-long dragon. Recommended for ages 7 and up. March 14 at 3pm. $20. Center for the Arts at the College of Staten Island, Williamson Theatre, 2800 Victory Boulevard, Building 1P, Staten Island. 718-982-2787. www.cfashows.com.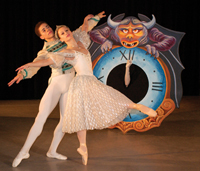 Storybook Ballet
See the timeless tale, Cinderella, brought to life on stage by the New York Theatre Ballet. Choreographed specifically for children, the one-hour performance is a great way to introduce kids to dance. Plus, artistic director Diana Byer will talk about what happens behind the scenes by describing how important lighting is to a performance, how it can change the mood of the ballet, and more. Saturday and Sunday, March 13 and 14, at 11am, 1pm, and 3:30pm. $36; $31 children. Florence Gould Hall, 55 East 59th Street (between Madison and Park Avenues). 212-355-6160 or 212-307-4100. www.nytb.org.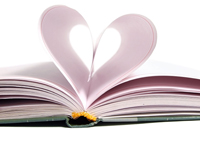 Poets for Haiti
The Old Stone House of Brooklyn will host a "Poets for Haiti" fundraising event March 22, 8-10pm. Organized by Michelle Madigan Somerville and Louise Crawford. All ages. $10 suggested donation. 336 Third Street. 718-768-3195. www.theoldstonehouse.org.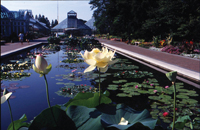 Spring Ahead!
Hop into the season with these outdoor activities.
At Bruce Springsteen Skate at Kate Wollman Rink in Prospect Park, the Boss rules the rink for the last themed skate of the season. March 7, 2-6pm. $5; $3 children 14 and under and seniors; $6.50 skate rental. Prospect Park, Parkside/Ocean Avenues entrance or Lincoln Road/Ocean Avenue entrance. 718-287-6431. www.prospectpark.org.
Prospect Park's historic carousel will operate during spring school break, March 27-April 6. 12-5pm. $1.50 per ride. Willink entrance, at the intersection of Flatbush Avenue and Empire Boulevard.
The park will also host a Blooming Naturalists program in the Audubon Center, and a Spring Sprouts program at Lefferts Historic House, March 29-April 2 in the afternoon. In the former, kids can train to be a naturalist by learning the tools of the trade and making their own nature journal. In the latter, tots can help get the Lefferts gardens ready for spring, then make their own pot of herbs to take home using newspaper, soil, and seeds. 718-287-3400. www.prospectpark.org.
Spring Break Discovery Week comes to the Brooklyn Botanic Garden. Bring your family to the Discovery Garden to catch this magical time of year. Enjoy nature-based activities to celebrate spring's arrival and discover the signs of change unfolding all around us. March 30-April 2, 1-3pm. 1000 Washington Avenue. 718-623-7260. www.bbg.org.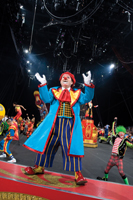 The Greatest Show on Earth Returns
See more than 130 performers from six continents, almost 100,000 pounds of performing elephants, plus cowboys, pirates and mermaids at Ringling Bros. and Barnum & Bailey® Presents Barnum's FUNundrum!?. Ringmaster Jonathan Lee Iverson invites the audience aboard the Ringling Bros. Express on an adventure to meet exotic characters and witness exciting performances. See the Flying Caceres, the Puyang troupe from China, the Mighty Meetal and more perform daring feats. Get an exclusive chance to meet the performers, get autographs, and meet the amazing elephant who paints, at the all-access pre-show, which is free with every ticket. March 25-April 4. $15 and up. Madison Square Garden, 4 Pennsylvania Plaza (Seventh Avenue and 32nd Street). 800-745-3000. www.ringling.com.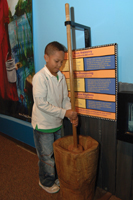 Exhibits for Everyone
Enter the Brooklyn Children's Museum's visiting exhibition, Tales from the Land of Gullah, and step into the world of the Gullah people - West African slaves brought to plantations on islands off the coast of Georgia and South Carolina in the 17th century. Learn to tell Gullah time, go fish netting with a Gullah fisherman, cook a Gullah meal, and more. Through April 4. $7.50; FREE children under 1. 145 Brooklyn Avenue at St. Marks Avenue. 718-735-4400. www.brooklynkids.org.
A special exhibition at the Brooklyn Museum, To Live Forever: Art and the Afterlife in Ancient Egypt, features ancient Egyptian objects that illustrate the strategies developed to cheat death. It also explores mummification and tomb rituals. Through May 2. Suggestion donation: $10; $6 students and seniors; FREE children under 12. 200 Eastern Parkway. 718-638-5000. www.brooklynmuseum.org.
The film Modern Marvels: Athens Subway, a History Channel feature that explores the development of an underground metro system in Athens and how it's transforming the city, is presented in connection with the new exhibition, Where New York Began: South Ferry Archeology, at the New York Transit Museum. $5; $3 children 3-17 and seniors. 130 Livingston Street. 718-694-1600. www.mta.info/museum.
The Toys! exhibit at Historic Richmond Town features more than 200 of the most popular toys from the 1840s through today and explores how toys act as agents of self-discovery and socialization. $5; $4 seniors; $3.50 children 5-17; FREE children under 5. 441 Clarke Avenue, Staten Island. 718-351-1611. www.historicrichmondtown.org.