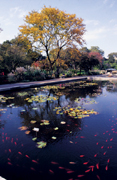 Celebrate Fall
Jump into a pile of activities at the Brooklyn Botanic Garden's Drop-in Discovery Workshop: Leaf-Peeping Party. Through hands-on experiments, games, and crafts, discover the answer to some of nature's mysteries, such as how leaves change color in the fall and why some leaves fall while others stay forever green. Then go on a leaf hunt and use your creativity to make leaf art. Recommended for preschool- and elementary school-aged children. Sunday, November 8, at 1pm. Discovery Garden, 900 Washington Avenue. $8; FREE children under 12. For more information, call 718-623-7260 or visit www.bbg.org.
Day of the Dead Puppets
Celebrate El Dia de los Muertos at the Brooklyn Children's Museum and make your own calaca, or skeleton puppet (pictured), to take home, November 1. For more information, call 718-735-4400 or visit www.brooklynkids.org.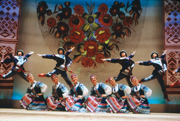 Ethnic Dance
Virsky Ukrainian National Dance Company comes to the Brooklyn Center for the Performing Arts as part of Brooklyn College's 2009-2010 World Stages: Dance series. The show, performed by a company of 65 dancers and musicians from Kiev, combines classical ballet technique with folk dance tradition in a tribute to the culture, beauty, and spirit of Ukraine. The program includes 16 dances ranging from light-hearted pieces of traditional Ukrainian folk dance to ritualistic mimics of warfare rituals. Sunday, November 8, at 2pm. Brooklyn Center for the Performing Arts' Walt Whitman Theatre at Brooklyn College, 2900 Campus Road. Tickets $35/$25. For more information or to order tickets, call 718-951-4500 or visit www.BrooklynCenterOnline.org.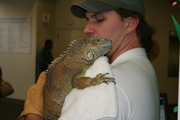 Get Icky!
At the Brooklyn Children Museum's IckyFest! weekend, kids of all ages can become scientific experts on all things slimy, yucky, and disgusting. This weekend festival, which runs November 21-22, offers kids a chance to get up close and personal with scaly, slimy animals like Elizabeth the monitor lizard (pictured). Animal curators will be roaming the "Neighborhood Nature" exhibit with animals that kids can touch. The staff will help kids get acquainted with these creepy crawlers by explaining what they eat and where they live. Kids can also meet some creepy water dwellers and spiky sea creatures during the "Mini Sea Monsters" morning presentation. At 2:30pm each day, there will be a live snake feeding for visitors ages 5 and older.
IckyFest! will also feature yucky but educational hands-on activities like dissecting owl pellets, making mud masks, and creating snotty slime. Kids can get messy while learning about the natural world and the role of each gooey, sticky, and dirty substance it contains.
Special performances during the weekend include "Bubblemania" on Saturday, November 21, at 1pm and 3pm, part of the MetLife Early Learners Performance Series. Bubble Artist Seth Bloom combines music and comedy in an educational performance about these spherical substances. On Sunday, November 22, Lisa Lou presents "The Magic of Chemistry" at 3pm. Through magic tricks and circus skill, Lou will explain the world of chemistry, including atoms, molecules, the elements, compounds, solutions, magnetism, and static electricity.
IckyFest! runs 10am-5pm, November 21-22 at the Brooklyn Children's Museum. All ages are welcome; some activities have minimum age requirements. Admission is $7.50; FREE for museum members and children under 1. Brooklyn Children's Museum, 145 Brooklyn Avenue at St. Marks Avenue. For more information, or for a list of IckyFest! activities and events, call 718-735-4400 or visit www.brooklynkids.org.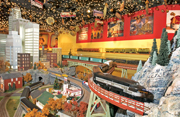 New Addition to Vintage Tradition
The 8th Annual Grand Central Holiday Train Show at the New York Transit Museum features Lionel trains chugging through a miniature Manhattan to the North Pole. New this year is a Long Island Rail Road train model, which joins MetroNorth, New York Central, and Pennsylvania Railroad cars on the elevated section of a 34-foot long track. The lower level of the track will feature models of New York City's Transit R-27 subway cars. Vintage Lionel trains from the Museum's collection will also be on view. For holiday shoppers, the Museum's store and booth at the Holiday Gift Fair in Vanderbilt Hall in Grand Central Station will offer a wide array of subway and railroad gifts. The train show is open to visitors November 25 - January 18 during regular museum hours: 10am-4pm Tuesday-Friday; noon-5pm Saturday and Sunday. $5; $3 children 3-17 and seniors (62 and older); FREE for museum members. New York Transit Museum, 130 Livingston Street. 718-694-1792; www.mta.info/museum.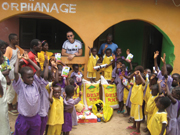 Party for a Cause
The Sky of Love Block Party Fundraiser will be an in-store event at Claro Shoes to benefit Sky of Love, a non-profit organization that strives to shelter and educate orphaned, abused, and neglected children in Africa. There will be a DJ, face painting, food provided by local merchants, and raffles. Claro Shoes will donate a portion of the day's sales and all raffle proceeds to Sky of Love. All ages are welcome at this event. Saturday, November 14, 10am-5pm. FREE. Claro Shoes, 312 Livingston Street. 718-809-7010; www.skyoflove.org.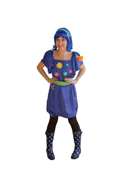 Silly n' Sweet
Jumpin' Juniper performs with Erin Lee and Marci at the Brooklyn Arts Exchange on Sunday, November 22, at 11am. The hour-long, high-energy performance includes stories and songs for tots and elementary school-aged children. A well-equipped playroom is available for any child who needs a break from the activity, with the option to return to the show at any time. $8-$15. Brooklyn Arts Exchange, 421 5th Avenue. To order tickets online: www.brownpapertickets.com. For more information: 718-832-0018 or www.bax.org.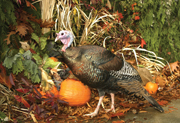 Turkey Talk
Visit Franklin the turkey (pictured) and his feathered friends and make a take-home craft during Talkin' Turkey, at the Prospect Park Zoo, November 18. For more information, call 718-965-8999 or visit www.prospectpark.org.