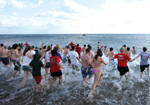 Catch a Chill for a Cause
Once again, New Yorkers can brave the chilly December waters in order to dive into a great cause. For the chance to be a little crazy (with a worthy and heart-warming excuse), join thousands of supporters in the Polar Plunge Fundraiser, which will benefit more than 28,000 local Special Olympics New York athletes. The support and financial donations raised by those who come out to take that icy swim go directly toward the athletes' entrance fees for any of the more than 200 yearly competitions held by the Special Olympics. The funds raised take the burden of the fees away from the Athletes' families and caregivers. All participants are encouraged to raise $100. In return, they can brag about their leap while wearing the annual Polar Plunge sweatshirt. Saturday, December 5. Registration begins at 9am; the Plunge will commence at 12pm. Great Kills Beach, Staten Island. 212-661-5217. www.specialolympicsny.org.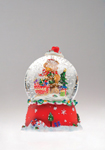 Miniature Wonderlands
Tots can create their own snow globes and listen to a wintery tale December 4 and 6 at the Brooklyn Children's Museum. Admission is $7.50; FREE museum members and children under 1. 145 Brooklyn Avenue (at St. Marks Avenue), Brooklyn. 718-735-4400. www.brooklynkids.org.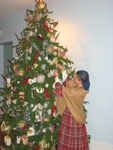 A Colonial Christmas
Celebrate an early-American Christmas in Historic Richmond Town. Tour the living history village decorated in full 17th-century regalia, complete with costumed residents reminiscent of early Staten Islanders, and take part in holiday activities. Sing along with holiday carolers, watch as the village tinsmith crafts glittering holiday ornaments, listen to a storytelling session, or take a leisurely horse and wagon ride ($2). Santa will be on hand throughout the day for photo opportunities. Seasonal greenery, baked goods, handmade crafts and ornaments, and holiday gift items will be on sale in the Courthouse. Sunday, December 6, 10am-4pm. At 5pm, the village will host its annual Tree Lighting Celebration, with complimentary hot cider for participants. Admission to Christmas in Richmond Town is $2; FREE children 12 and under; FREE Tree Lighting Celebration. Historic Richmond Town, 441 Clarke Avenue, Staten Island. 718-351-1611. www.historicrichmondtown.org.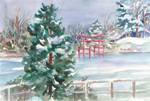 Winter Firs
Learn about the trees that stay forever green, even in the wintertime, during a journey through the Education Greenhouse at Brooklyn Botanic Garden. During the Celebrate Winter Trees! workshop, preschool and elementary school-aged children can explore the seasonal flora at the garden and make evergreen crafts. They'll also participate in a variety of nature-based activities appropriate for the winter season. Brooklyn Botanic Garden, 1000 Washington Avenue. December 6, 2-4pm. $8; $4 students 12 and over; FREE children under 12. For more information, call 718-623-7200 or visit www.bbg.org.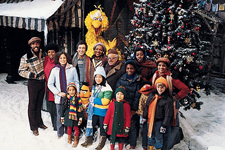 BAM Celebrates Sesame Street with Cinema Screenings
BAMcinématek, the film program at Brooklyn Academy of Music's Rose Cinemas, is celebrating Sesame Street's 40th anniversary with a weekend of screenings for kids and families, December 12-13. Sesame Street: A Celebration! is a film tribute to the beloved television show, which first aired in November 1969 and is now the longest-running children's TV series in the US. The weekend's feature films and clip compilations from the show's 40 years on air will include some of the series' most memorable moments as well as never-before-seen footage. Feature films include Follow that Bird (Ken Kwapis, 1985) and The Adventures of Elmo in Grouchland (Gary Halvorson, 1999). The lineup will also include The World According to Sesame Street (2006), a look at the global impact of the television program and how the show is adapted in different countries. This documentary will be followed by a Q&A with the directors, Linda Goldstein Knowlton and Linda Hawkins. The weekend will also feature special appearances by some of the best loved and well-known personalities from the series, as well as by puppeteers and other behind-the-scenes players.
Showings run Noon-9:30pm on Saturday, December 12, and Sunday, December 13. All ages welcome. Tickets: $11 per screening; $8 seniors 65 and over, children 11 and under, and students 25 and under with valid ID. For tickets, call 718-777-3456. For a complete list of showings or for more information, call 718-636-4100 or visit www.bam.org.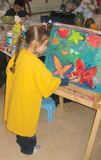 ART81 Young Artists Winter Exhibit, on December 12, will showcase the work of student artists ages 5-16. 1313-81st Street, Brooklyn. 718-490-9971. www.art81.org.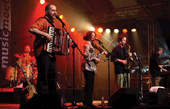 Celebrate with Song
Lively Arts at Kingsborough Community College presents The Klezmatics Hanukkah Party, featuring The Klezmatics, a six-person klezmer-style band. The group will share songs from their hit Hanukkah album, Woody Guthrie's Happy Joyous Hanukkah, featuring lyrics by legendary folksinger and long-time Brooklyn resident Woody Guthrie. The album boasts high-energy hits as well as old country charm.
Since their start more than 20 years ago, The Klezmatics' music has focused on Eastern European Jewish traditions and spirituality, while incorporating modern themes. Their eclectic sound is the result of musical influences from around the world, such as Arab, African, Latin and Balkan rhythms, jazz, and punk. The band has recorded nine albums, including "Wonder Wheel," which won the 2006 Grammy Award for Best Contemporary World Music Album. For more information about The Klezmatics, visit www.klezmatics.com.
Sunday December 13 at 2pm; the performance is 90 minutes with intermission. $15; $12 seniors and students. Kingsborough Community College, Leon M. Goldstein Performing Arts Center, 2001 Oriental Boulevard. 718-368-5596. www.kbcc.cuny.edu/kcc_arts/lively_arts.html.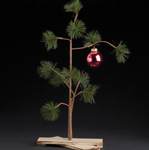 Christmas for Peanuts
Pig Brooch Theatre Co. will present several performances of A Charlie Brown Christmas - LIVE! this month at the Brooklyn Lyceum. The show will be a verbatim presentation of the television holiday favorite, "Charlie Brown Christmas Special," with Lucy, Linus, Charlie Brown, and the rest of the Peanuts gang. The performance will be accompanied by a live jazz trio performing all of the Vince Guaraldi favorites. Performance times are 7pm on December 10 and December 18; 2 and 7pm on December 12-13 and December 19-20. Appropriate for all ages. $10; a portion of tickets sales will be donated to the Children's Aid Society, an organization that provides assistance to underprivileged children and their families in the New York City area. Brooklyn Lyceum, 227 Fourth Avenue. 718-857-4816. www.brooklynlyceum.com.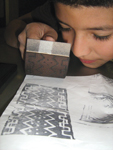 Kwanzaa Crafts and Celebrations
In honor of Kwanzaa, the Staten Island Children's Museum will host a weekend festival. During Celebrate Kwanzaa, children will be taught the meaning of this holiday, including its focus on heritage and community, and will come to understand the significance of traditional African mud cloth. After learning about these hand-painted works of art, participants will design and stamp their own to take home. December 26-27. Workshop at 1, 2, and 3pm. At 2pm on December 27, TD Foundation Family Passport will present "Kwanzaa Storytelling with Walter Rutledge."
The museum will also host Celebrate Eid December 4-6, Celebrate Hanukkah December 11-13, and Celebrate Christmas December 18-20, each featuring holiday-themed activities.
Workshops are free with admission: $6; FREE children under 1. Staten Island Children's Museum, 1000 Richmond Terrace, Staten Island. 718-273-2060. www.statenislandkids.org.
Also see our list of "The Nutcracker" performances in Brooklyn scheduled for this holiday season.