Check out our top picks for family events this March in Brooklyn, including family-friendly concerts and shows, plus celebration activities for Women's History Month and Dr. Seuss's birthday.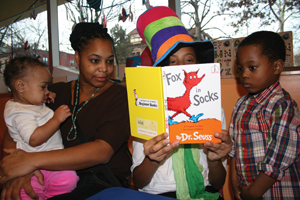 Happy Birthday, Dr. Seuss!
Little ones can join in a birthday party for Dr. Seuss. Spend a morning listening to cherished tales, taste some yummy cake, sing the Happy Birthday song, and create your very own super Seuss-tastical party hat to take home. March 4 at 11:30am. $7.50 museum admission. Brooklyn Children's Museum, 145 Brooklyn Avenue. 718-735-4400.
Tapping Through the Ages
Tap dancer extraordinaire Andrew Nemr summons the ghosts of tap dancing's past in Echoes in Time. Nemr reconstructs style and performances of tap's pioneers, among them Henry LeTang, Bill "Bojangles" Robinson, and Gregory Hines. March 4 at 8pm. $25 in advance; $30 at the door. Symphony Space, 2537 Broadway, Manhattan. 212-864-5400.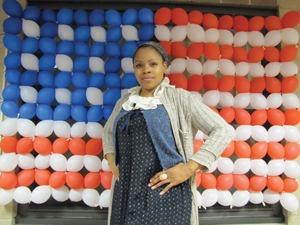 You Go, Girls!
March is Women's History Month and Brooklyn has much to offer in celebration. Here are a few family-friendly options:
The Urban Park Rangers present Girls Rule! Women's History Tea Party in Fort Greene Park. Children can enjoy tea, cookies, and milk while listening to biographical stories of pioneering women and how they made history. March 6. 1pm. FREE. Fort Greene Park Visitor Center, Myrtle Avenue and Washington Park. 718-722-3218.
One particularly brave, intelligent, and legendary woman was Harriet Tubman, whose life and legacy is represented in the play Harriet Tubman Herself, performed by the Sundog Theatre. This 50-minute performance unfurls Harriet's dangerous life as a leader of the underground railroad, and her success in bringing hundreds of slaves north to freedom. Period music accompanies the narrative and audience members are invited onstage to participate. March 5. 3:30pm. $6 museum admission. Staten Island Children's Museum, 1000 Richmond Terrace, Staten Island. 718-273-2060.
Fiddling Forward
Regina Carter has established herself as an accomplished jazz violinist. Growing up in Detroit, Carter began her studies in classical music before realizing the instrument's other abilities (thanks in part to her cousin James Carter, a veteran jazz saxophonist). Jazz and violin are hardly alien to each other, as any Stéphane Grappelli record will attest. Yet Carter has incorporated the pairing in many different contexts. Her most recent recording, Reverse Thread, captures African folk melodies with accompaniment from an accordion and kora (an African string instrument). Her appearance at the Brooklyn Museum promises an afternoon of multicultural music, and a reminder to us of where jazz really comes from. March 13. 3pm. FREE. Brooklyn Museum, 200 Eastern Parkway. 718-638-5000.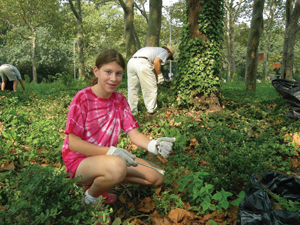 Perk Up Your Park
Brooklynites loves Prospect Park. We love it for its open space, its swans, those summer concerts, its unkempt and overgrown beauty. But NYC's precarious budget has hit the parks right where it hurts. Prospect Park now relies on volunteers more than ever to assist with cleanup, gardening, helping at events, and more. Volunteers are particularly needed during summertime when picnics and barbeques leave more trash than usual. Find out how to help your park by attending a volunteer information session. March 16 at 4pm. All ages. FREE. Prospect Park, Litchfield Villa, 95 Prospect Park West. 718-965-8960.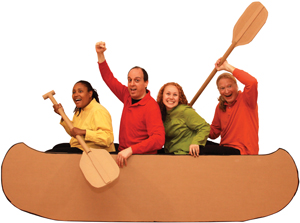 Paper, Not Plastic
The Paper Bag Players have the distinction of being the oldest operating children's theater group in America. The Players are the brainchild of Judith Martin, who helped start a wave of modern, experimental children's theater in Manhattan when the group was born in 1958. Skip ahead some 10 years and I can recall leaping in my seat in hysterics as performers dressed in black were covering themselves in toilet paper. I was not in marionette-land anymore. Today, the original foundation of the group remains intact: short skits based on ordinary children's experiences, combined with rousing songs, some pantomime, plenty of audience participation, and wickedly original props and costumes using - what else? - paper bags. Whoop-Dee-Doo is the latest example of their wackiness and originality, with performances in Brooklyn and Manhattan. March 19 at 11am and 2pm. $30; $20; $15. Symphony Space, 2537 Broadway, Manhattan. 646-434-1439. March 27 at 2pm. $12. Kingsborough Community College Leonard M. Goldstein Performing Arts Center, Oriental Boulevard, Brooklyn. 718-368-6680.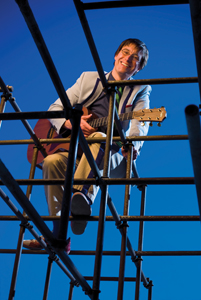 Not Just Another Justin
Justin Roberts was just another indie rocker in Minneapolis with a band and slacker attitude when his day gig as a Montessori school teacher led to a batch of self-made children's songs. A long and winding road later, Roberts is now a renowned recording artist and performer in the realm of kids' music with a bevy of awards, appearances on national TV, and now a concert here in NYC. Roberts sings about snow days, Halloween, sleepovers, the trauma of getting lost, and other topics that we all can relate to. He and his band, The Not Ready for Naptime Players, embody the indie rock vibe with hard-hitting songs that stink of power-pop greatness. This means Beatles-y, chiming guitars, and rich harmonies that sound like ear candy. Don't miss this rare treat. March 26. 11am and 2pm. $25 adults; $15 children. Symphony Space, 2537 Broadway, Manhattan. 212-864-5400.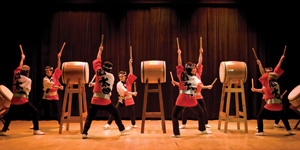 Drum Solo
In Japan, drums have been part of the culture since ancient times, accompanying religious ceremonies and civic events. Japanese drums, called Daiko (which means drum in Japanese) are quite big and elongated, requiring strength and stamina to perform. Spirituality is also part of Daiko drumming; drummers strive for harmony with the universe and with one another, the latter particularly important when the Soh Daiko ensemble performs. Fifteen members strong, Soh Daiko displays precision and strength during its concerts: at dynamic peaks, their sound is thunderous and loud; quieter intervals include bamboo flutes, brass bells, conch shells, and African shekere to beautiful effect. A Soh Daiko performance also features choreographed movement, making for an exciting and fascinating experience. March 27. 2pm. FREE. Brooklyn Center for Performing Arts, 2900 Campus Road. 718-951-4500.
Also see: Ladysmith Black Mambazo Performs at Brooklyn Center for the Performing Arts
Our Online Calendar, for even more family events in Brooklyn and the New York metro area