Honored by Obama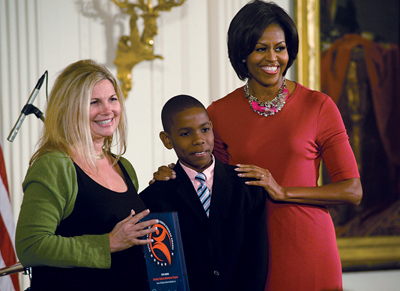 Left to right: Ellen F. Salpeter, Jamell Allen-Thomas, Michelle Obama
Eleven-year-old Jamell Allen-Thomas never thought signing up for summer camp would lead to a trip to the White House. But on October 20, Allen-Thomas accompanied Heart of Brooklyn Founding Director Ellen F. Salpeter to our nation's capital to accept a 2010 National Arts & Humanities Youth Program Award from First Lady Michelle Obama, on behalf of Brooklyn Cultural Adventures Program (BCAP).
BCAP, Heart of Brooklyn's youth education program, provides local children like Allen-Thomas with in-depth, behind-the-scenes experiences at some of New York City's premier cultural institutions, with a mission to forge lasting connections between Brooklyn's kids and their cultural community. BCAP is one of 15 after-school and out-of-school programs across the country (out of more than 400 nominations) that was presented with a National Arts and Humanities Youth Program Award, which is the highest honor such programs can receive in the United States.
"This year's awardees are shining examples of using success in the arts and humanities as a bridge to success in life," Obama said at the award ceremony. "Through them, our young people are not only discovering new talents and finding their creative voices, but also becoming better students, better leaders, and better citizens."
Now entering its tenth year, BCAP has engaged more than 4,000 Brooklyn youth in our borough's cultural community through the creative arts and hands-on exploration. Along with the award, Heart of Brooklyn received $10,000 to support the future of the program.
BCAP is currently accepting applications for its 2011 summer program. Those who register by February 28 will qualify for an early bird discount of 10 percent. For more information, visit www.heartofbrooklyn.org/bcap.