Check out some great family events happening this June in Brooklyn.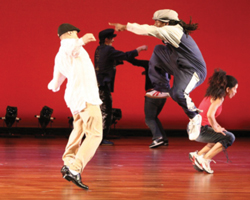 Jump Up, Jump Up, and Get Down (in Red Hook)
Everybody will be jumping at the Red Hook Festival on June 3 and 4. The festival has been a cultural mainstay for the past 18 years. As in past years, it presents local musicians, poets, dancers, and visual artists. This year's festival emphasizes participation, and old and young will have an opportunity to get in on the action, which includes gardening, drawing, photography, and more. Like previous years, the festival occurs over two days; Friday night is at PS 15 (6-9pm), while Saturday is an all-day affair happening on the Red Hook pier. PS 15 is located at 71 Sullivan Street in Red Hook.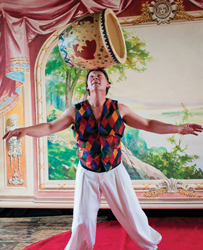 On the Waterfront
Normally, Brooklyn's Waterfront Museum is a place where you'll learn about New York harbor and its maritime legacy. Heck, the museum itself is a 1914 barge that was part of the Lehigh Valley railroad. But for several days this summer, the museum becomes Showboat Shazzam, a floating big-top circus with old-time family entertainment and classic circus artistry. Featured performances include juggling and comedy, aerial stunts, and trapeze artists. June features a program called Circus Lives; July and August events are dedicated to the museum's marine environment with a program called Creatures of the Deep. All promise to be a boatload of fun. June 5, 16, and 22. 1pm and 4pm. All ages. $10 in advance; $15 at the door. Waterfront Museum, 290 Conover Street, Red Hook. 718-624-4719.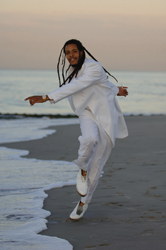 Tap Dancin' as Music
The dance company Passion of Tap comes to Brooklyn this month, with a performance that promises to be a celebration of tap's progression from its roots to an historical dance genre. Passion of Tap is the brainchild of dancer/choreographer/sonic explorer Omar Edwards. Some years ago, Edwards conceived Afro Feet Music, an approach to tap dancing that places the dancer as the lead instrument of a musical ensemble. He documented this concept with a 1998 album called "Tap Dancin' is Music." Onstage, Edwards builds the program gradually, opening the show dancing unaccompanied before adding more "foot" voices and finally coalescing into a free-style jam with the entire company. Edwards' fast-flying feet have graced recordings by Mos Def and concert stages with Alicia Keys and Common. See him here on June 10. 7pm. All ages. FREE. Herbert Von King Park, 670 Lafayette Avenue, Bedford-Stuyvesant. 212-360-2777. www.summerstage.org.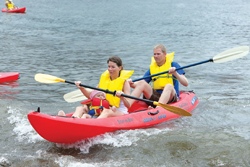 Paddle, Paddle, Paddle Your Kayak
If you're wondering if it was actually a kayak you spotted in the East River, it wasn't a mirage. There's a whole rack of kayaks off to the right at Brooklyn Bridge Park - and you can skipper one, too. Brooklyn Bridge Park springs into action with its summer events this month (check out our listings in the online calendar), and these include water activities. On selected days, kayaks and canoes are available on a first-come, first-serve basis. The only requirement is that you know how to swim (even though you will be wearing a life vest). You will be confined to a protected cove, one that you can tell the kids was where Dutch pirates sailed the Jolly Roger long, long ago. This month's dates are June 11, 18, 19, and 25. 11am-4pm. FREE. All ages; children under 18 must be accompanied by an adult. Brooklyn Bridge Park, Pier 1 and Main Street, Dumbo/Brooklyn Heights. 718-802-0603.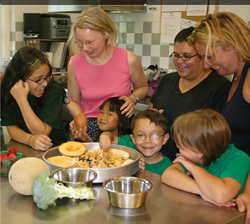 Munch with a Different Bunch
Kids can prepare some grub for the animals at Staten Island Zoo's Breakfast with the Beasts, June 12 at 8:30am. Tour the animal kitchen, help prepare some food for critters, and watch them eat. Meet some animals close up and have a breakfast snack while you're there. 614 Broadway, Staten Island. 718-442-3101.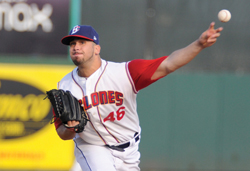 Dem Bums
In addition to its carny atmosphere, Coney Island is an excellent home for baseball. The Brooklyn Cyclones open their 11th season this month, with 38 home games that never skimp on extracurricular excitement. Every Monday delivers an autograph session on the field. Fridays feature post-game fireworks. Other days everybody is allowed to run the bases and throw some balls, and there are tons of giveaways. And something funny always happens in the stands and infield between innings. Don't miss this year's home opener. June 18. 6:30pm. $8-$16. MCU Park, West 17th Street and Surf Avenue, Coney Island. 718-449-8497.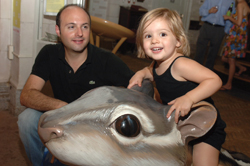 Father Knows Best
This is the month we honor Dad, and there are plenty of ways to do so in Brooklyn. Here are some options:
The Brooklyn Children's Museum presents Kool, Jazzy Dads, where kids can decorate a tie while being inspired listening to jazz. June 18 and 19. 2:30pm. $7.50 museum admission. Brooklyn Children's Museum, 145 Brooklyn Avenue. 718-735-4400.
Prospect Park hosts its Father's Day Sing-Along with musician Rory Dineen to be followed by strawberries topped with home-made cream from the Lefferts Historic House. June 19. 3pm. FREE. Lefferts Historic House/Prospect Park, 425 Flatbush Avenue. 718-789-2822.
Not far away, at Prospect Park's Audubon House, kids can make a card from recycled materials to present to dad at Father's Day at the Audubon Center. June 19. 12-5pm. FREE. Prospect Park Audubon Center, Lincoln Road and Ocean Avenue. 718-965-8960.
Also see: June Family Outing: Exploring Science on Governors Island
Our Online Calendar, for even more upcoming family events in Brooklyn and the NYC area