Check out these kid and family-friendly events and activities happening in Brooklyn this October! Be sure to check out Brooklyn's full October calendar for more listings.
The Brooklyn Children's Museum is celebrating the opening of its new exhibit, Top Secret: Mission Toy, with opening weekend games and activities. Learn how toys can take many shapes and forms, from simple wooden tops to remote-controlled robots, and then make your own toy to take home. October 3-4, starting at 10am. The exhibit runs through January 3, 2010. $7.50. Brooklyn Children's Museum, 145 Brooklyn Avenue. 718-735-4400. www.brooklynkids.org.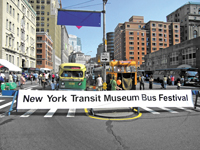 The Wheels on The Bus...
Get an up-close view of the extensive vintage collection of buses and guest vehicles at Brooklyn's largest street fair, the 16th Annual Transit Museum Bus Festival At Atlantic Antic. The festival will also feature children's workshops, live entertainment, guided tours of special buses, a large selection of vendors at the Bus Shop, and refreshments. Sunday, October 4, 10am-6pm. FREE. Boerum Place between State Street and Atlantic Avenue. 718-694-1600. www.mta.info/museum.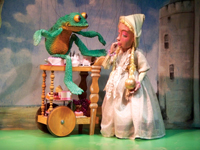 Two-for-One Theater
See two classic tales come to life, with Peter and the Wolf and The Frog Prince. Adapted and narrated for marionettes by Puppetworks' artistic director Nicolas Coppola, Peter and the Wolf tells the story of a little boy who captures a ferocious wolf with the help of some animal friends; The Frog Prince is the Grimm Brothers' famous tale of the princess who kissed a frog and found her prince. Recommended for ages 3 and older. Saturdays and Sundays through December 20, 12:30 and 2:30pm. $8; $7 children. Reservations suggested. Puppetworks, 338 Sixth Avenue at 4th Street, Park Slope. 718-965-3391 or www.puppetworks.org.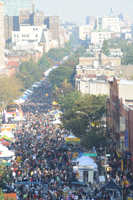 Brooklyn's Best Bet
The 35th Annual Atlantic Antic Street Festival is the quintessential Brooklyn festival and one of the biggest street fairs in the country. Spanning four Brooklyn neighborhoods - from Fourth Avenue in Boerum Hill, through Smith Street in Carroll Gardens, to Hicks Street in Brooklyn Heights and Cobble Hill - the Atlantic Antic draws one million people each year. With 10 live performance stages, local merchants and artisans, children's activities, and culinary delights from over 500 vendors, the Festival is the family destination this month.
Live Music and Entertainment
Ten stages and a packed schedule of live music, from blues, rock, and country, to R&B, jazz, and interactive music for children, will be performed throughout the day. Highlights include Lloyd Miller of the Deedle Deedle Dees, DJ Momotaro, and a Middle Eastern orchestra and belly dancers. The New York Transit Museum's 16th Annual Bus Festival along Boerum Place will coincide with the Antic and present a collection of vintage buses, educational hands-on activities for children, and the "Bus Shop." Admission to the Museum will be complimentary between noon and 5pm.
Play Time for the Little Ones
The extensive kids' area will feature Brooklyn's indoor play space, NYCExplorers, with educational activities, music, fitness, arts and crafts, and science classes, plus games, cookie decorating, and a rave dance party for toddlers. Plus, pony rides, inflatable castles, face painting, balloon sculptures, and storytelling will keep the kids busy.
Sweets, Treats, and Temptations
The Antic will feature a variety of international fare, from oysters and jambalaya to fried Twinkies and red velvet cake. "There's such a dynamic mix of vendors that you can't walk far without encountering something special," says Alexis Miesen, co-owner of the Blue Marble Ice Cream Shop, which will be serving up organic ice cream.
Shop Till You Drop
Veteran and new shops alike will offer clothing, housewares, furniture, gifts, art, and more to help you get a jumpstart on holiday shopping. "The Antic introduces visitors to the specialized boutiques and other businesses along Atlantic Avenue. It isn't just an amazing event for Brooklyn businesses, but an amazing experience for old and new festival-goers as well," says Michelle Fields, owner of Michelle NY, a women's boutique that carries contemporary styles and eveningwear.
Info
Where: Hicks Street to Fourth Avenue
When: October 4, 10am-6pm
How much: FREE
For more information: 718-243-1414; www.atlanticave.org