PARK AND GRAND                                  
    It may be winter but Prospect Park's programming has not gone into hibernation!! The park has several ongoing activities, as well as special holiday events. On Saturday, December 15, the Audubon Center hosts its annual tradition, The Christmas Bird Count. Each year at this time, a nationwide bird census is taken to help conservation researchers track the long-term health of the bird population. The Count takes place this year, 8-10am, noon-1pm, and 3-4pm.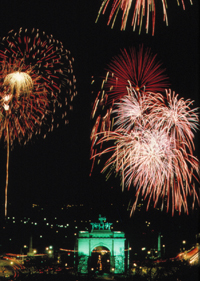 On New Year's Eve, Grand Army Plaza will be the site of the biggest party this side of the Brooklyn Bridge, lighting up the sky with an extensive fireworks display. Several locations are prime viewing: inside the Park on the West Drive, along Prospect Park West (between Grand Army Plaza and 9th Street), and anywhere at Grand Army Plaza itself. Visit www.prospectpark.org for more information.
SINGING THROUGH THE STORM
   The Shadowbox Theatre, known for its live theater, music and puppetry, celebrates its 40th anniversary with a variety of shows this season. On Sunday December 16, the mini-musical, Big Annie: an American Tall Tale for Christmas, enlists the help of a storyteller, musician, and puppets to tell the tale of a Creole flatboat captain who pulls a boatload of toys through a harrowing storm on Christmas Eve with the assistance of her animal friends. Kids are asked to join in songs that help Big Annie prevail. The show also includes a holiday singalong celebrating Christmas, Chanukah, Kwanzaa and Three Kings Day. Showtime is at 3pm. Tickets are $10.  Brooklyn Music School Playhouse, 126 Saint Felix Street (between Hanson Place & Lafayette Avenue). For more information, call (212) 724-0677, or visit www.shadowboxtheatre.com.