The Brooklyn Hospital Center celebrated the grand opening of its expanded 61st Street Family Health and WIC (Women, Infants and Children) Center in Sunset Park on June 1 with a ribbon-cutting ceremony, refreshments, and tours led by multilingual family practice physicians.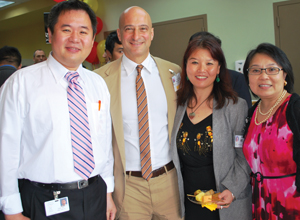 The new facility is triple the size of what was previously called The Eighth Avenue Family Health Center. The 61st Street Family Health Center, which has eight exam rooms, a procedure room, a sonogram room, and convenient access to the WIC Center (located in the same building), continues to provide care for infants, children, adults, and seniors. It also offers nutritional counseling, health education, and social services. The center's staff speaks Spanish, Chinese, and many other languages.
The WIC program for pregnant women, new mothers, and children under 5 offers breastfeeding classes; one-on-one counseling; monthly food checks; immunization screenings; and referrals. WIC provides nutrition and health education, healthy food, and other services free of charge to families who qualify. Patients may be eligible regardless of citizenship or immigration status.
For more information on the 61st Street Family Health and WIC Center, call 718-851-2323 or visit www.tbh.org.