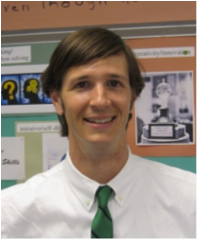 Brooklyn Prospect Charter School Lacrosse Coach Craig Cetrulo won the Positive Coaching Alliance (PCA)'s Double-Goal Coach® Award, presented by Liberty Mutual Insurance. Coach Certulo received the award for his positive impact on the young athletes he teaches.
The award - named for coaches whose first goal is winning, and whose second, more important goal is teaching life lessons through sports - carries a $250 prize and a trophy.
"Craig wins on the scoreboard, and more importantly, he wins by creating a positive, character-building sports experience for youth athletes," says Jim Thompson, PCA's founder and executive director.
Cetrulo started the school's lacrosse program by refurbishing donated equipment, guiding his players' fundraising efforts, and involving them in the grantwriting process that earned an Emerging Teams grant from US Lacrosse, a PCA National Partner. That experience was the beginning of wins and life lessons for some of the school's "least engaged" students, according to a letter nominating Cetrulo for the award.
"I enjoy the opportunity to work with students outside the classroom," Cetrulo says. "I can teach a great deal on the athletic field about life and how to be successful at anything you do. It's a lot about shaping the attitudes of young people. These are things I learned early about the power of a coach."
Liberty Mutual and PCA have also partnered to help youth sports coaches and parents through the Liberty Mutual Responsible Sports program. Founded in 2007, the program serves as a means to highlight the positive impact that everyday, responsible actions can have on our youth.

The Liberty Mutual Responsible Sports program provides resources for parents and coaches at ResponsibleSports.com to help children reap the full benefits of playing a team sport. The online community incorporates podcasts, videos, and best practices on youth sports topics that provide practical, real-world advice. Parents and coaches also can complete guides on positive sports mentoring that offer best practices for handling challenging sports scenarios.