UPDATED MARCH 2014: Take a look at our birthday party guide for some fun ideas for kids in Brooklyn. Find party venues and spaces, caterers, planners, supply stores, and entertainers, including magicians, clowns, musicians, face painters, and more.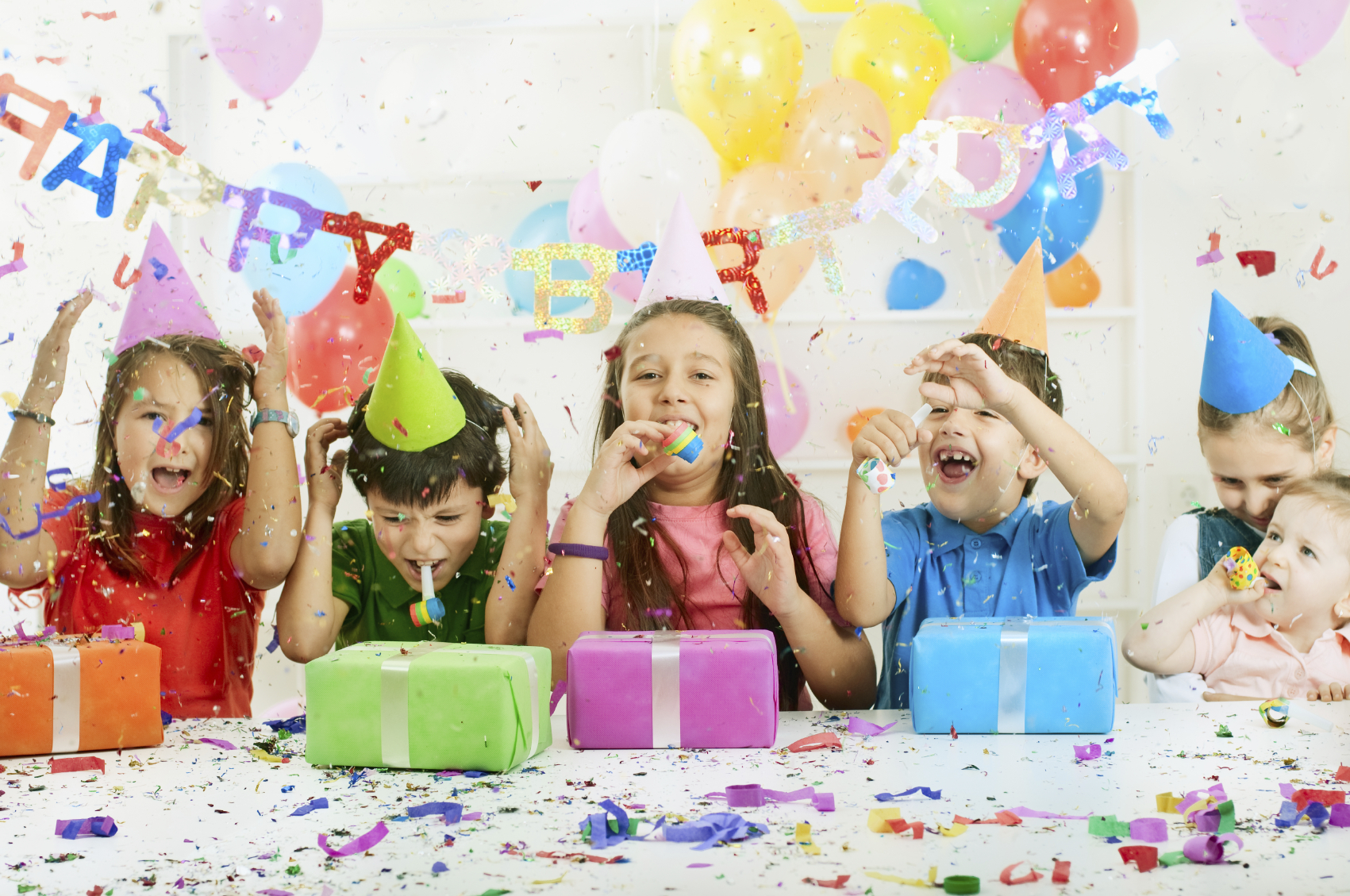 BAX/BROOKLYN ARTS EXCHANGE
421 Fifth Ave. (corner of 8th Street), Park Slope
718-832-0018
Fernando Maneca, Director

A BAX birthday party is a celebration to remember! Celebrate your child's special day in a warm, creative environment. Each BAX Birthday Party is as unique as the child it celebrates, and we offer a variety of party options and packages to suit each family's needs. Whether you want to do it yourself or let us do it for you, parties are available for children of all ages, from crawlers to cartwheelers! For details visit events.bax.org/birthday, email [email protected], or call 718-832-0018.

BLUE MAN GROUP
Astor Place Theatre, 434 Lafayette St., New York
800-BLUEMAN (258-3626)

BLUE MAN GROUP is great for birthdays or any special occasion! This unique theatrical experience is a form of entertainment like nothing else, guaranteed to be an outing your group will never forget. Birthday party packages are available for groups of 10+. Package includes discounted tickets, name of birthday child on the LED screen at the beginning of the show, merchandise item for each guest, and a Blue Man Group poster for the birthday child. For more information or to book, call the Group Sales Department at 212-260-8993.

BOUNCEU
6722 Fort Hamilton Parkway (entrance on 67th St. & 9th Ave), Dyker Heights, Brooklyn
718-238-3288
Email [email protected]

BounceU is the ultimate party and play experience. BounceU is an indoor recreational facility with large inflatable play equipment in a 10,000-sq.-ft. space. BounceU hosts private birthday parties, athletic team parties, church youth group functions, field trips, and even corporate events. Parties at BounceU are safe and secure, held in our clean and comfortable indoor stadium. Relax! Enjoy! Be our guest! We coordinate, set up, facilitate, clean up, and pack up. For once, spend the party with the guest of honor, and make memories that really last a lifetime.

BRONX ZOO
2300 Southern Blvd., Bronx
718-220-5132
[email protected]
Email [email protected]

Give your child a once-in-a-lifetime birthday adventure. Children, ages 1-12, will enjoy a festive celebration in a private room with Zoo staff to run the party for you. Guests experience up-close visits from some of our favorite animal guests, participate in party activities and games, and explore the amazing Congo Gorilla Forest exhibit with our expert education staff as their guides. It's a junior safari not to be missed! Contact us at [email protected] or 718-220-5132.

CHELSEA PIERS SPORTS AND ENTERTAINMENT COMPLEX
23rd Street & Hudson River Park, NYC
212-336-6500 x6561

Chelsea Piers is home to Manhattan's best sports-themed birthday parties. State-of-the-art facilities and world-class instruction combine with convenient party planning and packages for a fun and memorable birthday celebration! Preschoolers to teens choose from a variety of activities at the 23,000-square-foot gymnastics center, which includes in-ground trampolines, deep foam pits, and a rock climbing wall. Additional party facilities include indoor playing fields, a Little Athletes Exploration Center, basketball courts, batting cages, two indoor ice-skating rinks, a 40-lane bowling center, or the hi-tech golf driving range.

CLOWNS.COM
Proudly Serving Westchester, Long Island, Queens, Brooklyn, Manhattan, and the Bronx,
718-971-5862
Email [email protected]

At Clowns.com, our goal is to create an unforgettable and memorable party experience for you and your family. We provide the highest quality children's entertainment and rental services in the industry. If you're looking for a professional, dependable, and enthusiastic team, you've come to the right place! We are a family owned and operated entertainment company, offering a wide range of party and entertainment services including clowns, inflatable bounce houses, characters, magicians, princesses, magic shows, face painting, and party concession rentals.

CUMBE: CENTER FOR AFRICAN AND DIASPORA DANCE
558 Fulton St. (right by Flatbush Avenue), 2nd Fl., Fort Greene
718-935-9700
Email [email protected]

Cumbe: Center for African & Diaspora Dance offers birthday parties for youth of all ages, customizable to your child's interests. You can throw a themed party, including dance, drumming, or arts activities, with one of our skilled youth instructors and a studio assistant to help with set-up and clean-up. Or you can simply rent our facilities—including our 35'x39' dance studio, sound system, kitchenette, and restrooms. For more information or to book a party, contact our birthday party specialist, Aja-Nicole Hope, at [email protected] or call 718-935-9700.

GYM PARK (THE)
81 Oak St., Brooklyn
718-349-6627
Email [email protected]

We are a gymnastics-based program and play center that aims to promote and teach positive social interaction and physical fitness for all ages. We offer customized parties that ensure the birthday child, guests, and parents have a great time. Parties include one hour of fun gymnastics/games activities and half an hour of sit-down party time—food, drinks, cake, etc. Instructors will guide and supervise the party. We are all about safety…and lots of fun!

HILTON GARDEN INN
1200 South Ave., Staten Island
718-477-2400

The Hilton Garden Inn, Staten Island, offers year-round children's pool parties. The three-hour pool party package consists of swim time in our indoor heated pool, as well as a child-friendly buffet. To make your child's event even more spectacular, a sleepover can be added. Please keep us in mind for communions, christenings, sweet sixteen parties, Bar/Bat Mitzvahs, and first birthday parties. For further details, please contact our sales department.

KIDS 'N ACTION
1149 McDonald Ave.,
718-377-1818

Fun and thrills are what your kids will have at Kids 'N Action. Kids never get bored enjoying our thrilling indoor roller coaster, amusing winding train, exciting go-carts, and action-filled arcade games. Younger children enjoy a unique soft play structure and a toddler section. Our birthday party packages include personal hostess, private party room, pizza, drinks, coffee for the adults, personalized birthday cake, unlimited soft play, and rides. For more information, please call or visit our website.

THE LITTLE GYM OF BAY RIDGE-BENSONHURST
8681 18th Ave., Brooklyn
718-259-6878
Email [email protected]

The Little Gym is a great place to celebrate your child's birthday! Each party has exclusive use of our 5,800-sq.-ft. facility, and includes games, music, and serious fun! Trained instructors lead children through age-appropriate, fun gymnastics activities. We handle invitations, paper goods, and all the set-up and clean-up. The birthday child receives a birthday gift, too! We book two to three months in advance, so call today to plan for your child's special day. Inquire about our Free Introductory Classes for Gymnastics, Dance, Sports Skills, and Karate.

PACPLEX/PACKIDS
1500 Paerdegat Ave. N., Brooklyn
718-531-1111

PacKids, of PacPlex, offers great ways to incorporate sports and fun activities into your child's birthday party. Taking advantage of our indoor soccer field, basketball courts, and swimming pools, our party packages include playtime (organized or free-form), and party time. We provide host/hostess, lifeguards, food options, and decorations. As PacPlex continues to expand its facilities, we will be adding more fun activities and package options. Find out more at pacplex.com or call 718-531-1111.

SPA-DI-DA & CARNIVAL KIDS PARTY CENTERS
With Locations in Staten Island, Brooklyn, and New Jersey
718-238-7278 (Party) Brooklyn SPA DI DA
718-356-7278 (Party) SI SPA DI DA
718-356-4386 (Fun) SI CARNIVAL KIDS

Spa-Di-Da is an amazing party place where your little princesses and princes are treated like queens and kings. At the spa they're pampered in a friendly, accommodating environment, and can enjoy: manicures, pedicures, make-up, hair styling and clip-in feather hair extensions, lip gloss and perfume making, tattoos or glitter tattoos, face painting, designing T-shirts, karaoke, and much more! All parties feature a party motivator and our dynamic staff, invitations, pizza, and refreshments. Our goal is for each child to leave with a smile and a birthday they'll never forget.

SPA-TACULAR PARTY'S @THE CANDY SHOP
5918 Ave. N., Mill Basin
718-513-3121
Email [email protected]

Spa-Tacular Party's @ The candy Shop is a new venue catering to kids, both boys and girls, in a fun, safe environment located in the back of a vintage-style candy shop. Parents can enjoy coffee or cappuccino in the candy shop while the kids are having fun playing arcade games, air hockey, basketball, dancing, karaoke, and getting pampered in a five-star spa filled with candy-scented products. Manicures, pedicures, hair, and makeup are just part of the fun before the red carpet fashion show. In one word it's SPA-TACULAR!