Take a look at our birthday party guide for some fun ideas for kids in Brooklyn. Find party venues and spaces, caterers, planners, supply stores, and entertainers, including magicians, clowns, musicians, face painters, and more.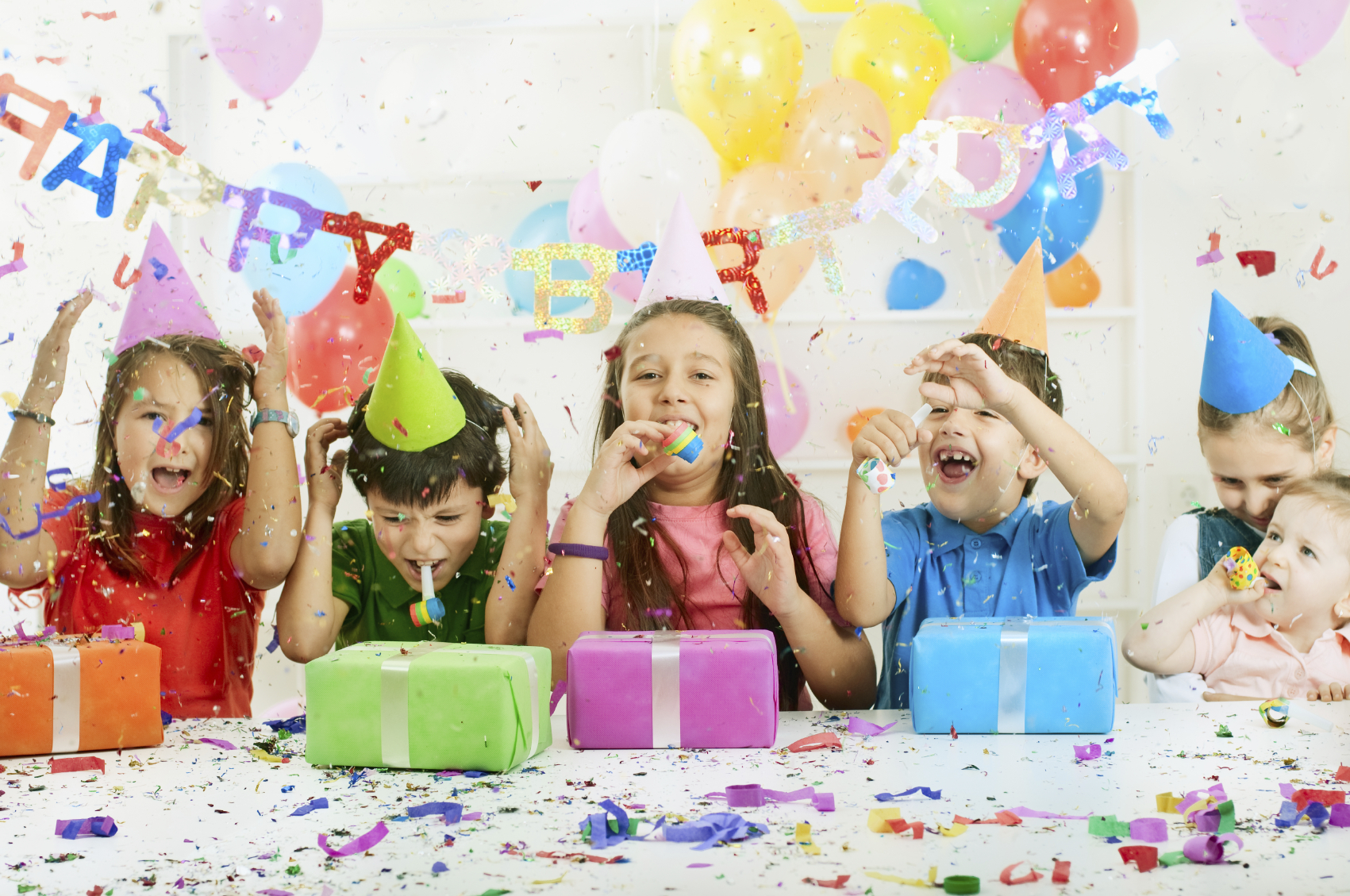 ACTING OUT!
718-236-6494
7426 15th Ave.
4724 Ave. N

Imagine how your child's face will light up when their favorite characters magically appear at their party! Our troupe of professional, multi-talented young performers sing and dance their way into your hearts, delighting you and your party guests with a professional theatrical performance that includes both a live musical show and tons of personal interaction. Themes include Princesses, Broadway, and Glee, or we can even create a show just for you. A most unique experience! We'll see you soon! Dramatically Yours, Roberta Loew, Owner and Creative Director of Acting Out! And The Tandem Theatre.

AMERICAN MUSEUM OF NATURAL HISTORY
Central Park West at 79th Street, New York
212-769-5200
Email sleepovers@amnh.org

Be among the lucky few to experience A NIGHT AT THE MUSEUM, New York City's most enchanting sleepover program. Imagine roaming the halls of the American Museum of Natural History after everyone else has gone home! Grab your flashlight and head out on adventure. You'll stand beneath a fearsome T. Rex, explore live-animal exhibitions,, and watch an IMAX film before falling asleep under the 94-foot-long blue whale. To check dates and availability, visit amnh.org/sleepovers, email sleepovers@amnh.org, or call 212-769-5200.

BAX/BROOKLYN ARTS EXCHANGE
421 Fifth Ave. (corner of 8th Street), Park Slope
718-832-0018
Fernando Maneca, Director

A BAX Birthday Party is a celebration to remember! Your child and guests will be guided through a creative-movement or drama-based activity led by a seasoned BAX teaching artist. Each two-hour party includes time for free play, fun games, cake, and refreshments. Creative themed activities incorporate elements of storytelling, music, song, and dance, designed with your special birthday girl/boy in mind! Past themes have included cartoons, mermaids, musicals, ballerinas, super heroes, tumbling, and more.

BOUNCEU
6722 Fort Hamilton Parkway (entrance on 67th St. & 9th Ave),
718-238-3288

BounceU is the ultimate party and play experience. BounceU is an indoor recreational facility with large inflatable play equipment in a 10,000-sq.-ft. space. BounceU hosts private birthday parties, athletic team parties, church youth group functions, field trips, and even corporate events. Parties at BounceU are safe and secure, held in our clean and comfortable indoor stadium. Relax! Enjoy! Be our guest! We coordinate, set up, facilitate, clean up, and pack up. For once, spend the party with the guest of honor, and make memories that really last a lifetime.

CLOWNS.COM
Proudly Serving Westchester, Long Island, Queens, Brooklyn, Manhattan, and the Bronx,
718-971-5862
Email abstone77@gmail.com

At Clowns.com, our goal is to create an unforgettable and memorable party experience for you and your family. We provide the highest quality children's entertainment and rental services in the industry. If you're looking for a professional, dependable, and enthusiastic team, you've come to the right place! We are a family owned and operated entertainment company, offering a wide range of party and entertainment services including clowns, inflatable bounce houses, characters, magicians, princesses, magic shows, face painting, and party concession rentals.

GLITZY CHICKS® MAKE-OVER & SPA PARTIES
877-GLAM-JAM

The first company of its kind in the tri-state area, Glitzy Chicks® has been specializing in make over and spa parties for over 13 years. The salon comes to you! Pampering includes manicures, pedicures, funky hair styling, makeup applications, massages with aromatherapy and more—glitz and glam all the way! Full entertainment while guests take turns at the salon stations means there's never a dull moment! Sing a-along, dancing, and games. Packages for all ages, reduced packages for weekday events, and mother-daughter fundraisers for your organization.

THE GYM PARK
81 Oak St., Brooklyn
718-349-6627
Email info@thegympark.com

We are a gymnastics-based program and play center that aims to promote and teach positive social interaction and physical fitness for all ages. We offer customized parties that ensure the birthday child, guests, and parents have a great time. Parties include one hour of fun gymnastics/games activities and half an hour of sit-down party time—food, drinks, cake, etc. Instructors will guide and supervise the party. We are all about safety…and lots of fun!

HILTON GARDEN INN
1200 South Ave., Staten Island
718-477-2400

The Hilton Garden Inn, Staten Island, offers year-round children's pool parties. The three-hour pool party package consists of swim time in our indoor heated pool, as well as a child-friendly buffet. To make your child's event even more spectacular, a sleepover can be added. Please keep us in mind for communions, christenings, sweet sixteen parties, Bar/Bat Mitzvahs, and first birthday parties. For further details, please contact our sales department.

JOFFREY BALLET SCHOOL
434 Sixth Ave., 3rd, 4th, & 5th Floors, New York
212-254-8520

The Joffrey Ballet School is the home of Baby Ballerinas, Hip Hoppin' Street Jazz, Demi Soloists, and so much more. The world-renowned program is a world-renowned good time for you and your child. We have over 60 years of excellence to share with your family. The dance classes begin at the age of two, with live music and performances that will create memories to last a lifetime. Our theme-based birthday parties are fantastic, with cakes by the "Cake Boss," and sprinkles of joy from the school faculty. Come grow with us...joffreyballetschool.com.

KIDS 'N ACTION
1149 McDonald Ave.,
718-377-1818

Fun and thrills are what your kids will have at Kids 'N Action. Kids never get bored enjoying our thrilling indoor roller coaster, amusing winding train, exciting go-carts, and action-filled arcade games. Younger children enjoy a unique soft play structure and a toddler section. Our birthday party packages include personal hostess, private party room, pizza, drinks, coffee for the adults, personalized birthday cake, unlimited soft play, and rides. For more information, please call or visit our website.

THE LITTLE GYM OF BAY RIDGE-BENSONHURST
8681 18th Ave., Brooklyn
718-259-6878

The Little Gym is a great place to celebrate your child's birthday! Each party has exclusive use of our 5,800-sq.-ft. facility, and includes games, music, and serious fun! Trained instructors lead children through age-appropriate, fun gymnastics activities. We handle invitations, paper goods, and all the set-up and clean-up. The birthday child receives a birthday gift, too! We book two to three months in advance, so call today to plan for your child's special day. Inquire about our Free Introductory Classes for Gymnastics, Dance, Sports Skills, and Karate.

MOXIE SPOT
81 Atlantic Ave., Brooklyn
718-923-9710

The Moxie Spot hosts parties — from smaller (10 kids max, 30 people total) who want to use the space and share its regular activities with others (i.e. Singalongs on Sundays, Wii Nights) — to larger (up to 30 kids) for those wanting a private party that's more of an extravaganza. Foosball, toys, and art supplies are available throughout. A private party at The Moxie Spot consists of simple art projects, old-school party games, and of course, dancing! Being a restaurant, we provide a variety of kids' food for parties, as well as snacks, wine/beer for parents.

PACPLEX/PACKIDS
1500 Paerdegat Ave. N., Brooklyn
718-531-1111

PacKids, of PacPlex, offers great ways to incorporate sports and fun activities into your child's birthday party. Taking advantage of our indoor soccer field, basketball courts, and swimming pools, our party packages include playtime (organized or free-form), and party time. We provide host/hostess, lifeguards, food options, and decorations. As PacPlex continues to expand its facilities, we will be adding more fun activities and package options. Find out more at pacplex.com or call 718-531-1111.

PARTY GYM
1130 Ave. Z , Brooklyn
718-891-8500

Since 1992, Party Gym has been setting the standard for children's private parties. Our goal back then, and now, is to afford our customers a safe, clean, and family-friendly environment. The birthday child is always special, and we pride ourselves in taking the stress out of having a party—we take care of everything! We are not open to the public during your child's private party. Since 1992, we have hosted over 20,000 successful parties. We also have open play time Mondays, Tuesdays, and Thursdays.

SPA-DI-DA & CARNIVAL KIDS PARTY CENTERS
With Locations in Staten Island, Brooklyn, and New Jersey
718-238-7278 (Party) Brooklyn SPA DI DA
718-356-7278 (Party) SI SPA DI DA
718-356-4386 (Fun) SI CARNIVAL KIDS

SPA-DI-DA is an amazing party concept place, where your little princess is treated like a queen, and your little prince like a king. At the spa, they are pampered according to their wishes, in a friendly, accommodating environment. Among the services and activities your child can enjoy and participate in are manicures, pedicures, makeup and hair styling, crafts, karaoke, and more. All parties feature invitations and refreshments. The mission of the spa is "to ensure that each child leaves with a smile."

SPA-TACULAR PARTY'S @THE CANDY SHOP
5918 Ave. N., Mill Basin
718-513-3121

Spa-Tacular Party's @ The candy Shop is a new venue catering to kids, both boys and girls, in a fun, safe environment located in the back of a vintage-style candy shop. Parents can enjoy coffee or cappuccino in the candy shop while the kids are having fun playing arcade games, air hockey, basketball, dancing, karaoke, and getting pampered in a five-star spa filled with candy-scented products. Manicures, pedicures, hair, and makeup are just part of the fun before the red carpet fashion show. In one word it's SPA-TACULAR!

THE RISE OF THE JACK O'LANTERNS
Old Westbury Gardens, 71 Old Westbury Road, Old Westbury
516-333-0048

Those lucky enough to have a birthday or special occasion in October are in for a real treat! Experience the overall effect of viewing thousands of illuminated pieces of art on a long and winding trail on the majestic grounds of Old Westbury Gardens with friends and family. Some of this year's all-new themes include: At the Movies: A Tribute to Tim Burton; Optical Illusions; Pop Stars; Video Games; The Walking Dead; Outer Space, and many more. Tickets are for specific dates and times, and must be purchased in advance. Visit therise.org.