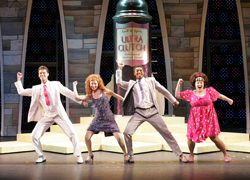 It's been a cold Brooklyn winter so far but if there's one thing that might draw Brooklynites out of their cozy dwellings, it's the production of the hit Broadway musical, Hairspray, playing at Brooklyn Center for the Performing Arts.
The show focuses on Tracy Turnblad, of course - "a big girl with big hair and an even bigger heart." With her unique passion for dancing, you might think she would be more limited than her skinny counterparts, but nothing can quell Tracy's gumption. She might originally be from Baltimore, but her fortitude and determination would definitely make her an honorary Brooklyn girl. After Tracy wins a spot on the local TV dance program, "The Corny Collins Show", she becomes somewhat of a teen celebrity, but still remains the same old Tracy, battling the wrongs of the world and looking for love in this feel-good show.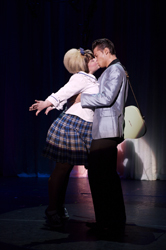 Tracy is played by New Jersey native, Danielle Arci who has also had regional parts in High School Musical, Hair, and Footloose. The beloved Edna is portrayed by Jerry O'Boyle, who has perfected the role by playing Tracy's lovable yet eccentric mother in more than 100 cities and 4 countries. Hailing from Australia, Benjamin McHugh makes his North American debut as Corny Collins.
The Brooklyn Center for the Performing Arts has a longstanding tradition of bringing quality shows to the borough. With its large auditorium and professional sound stage and dimensions, it rivals most Manhattan theaters yet offers lower priced tickets, without compromising quality.
Hairspray is based on the film written and directed by John Waters, who also served as a creative consultant on the musical comedy.
Where: Brooklyn Center for the Performing Arts
Walt Whitman Theatre on the campus of Brooklyn College
2900 Campus Road
When: Sunday, January 24, 2010 at 3pm

How Much: Tickets: $40/$30
For more information: Call (718) 951-4500 Tuesday-Saturday, 1-6pm, or visit BrooklynCenterOnline.org.