After receiving a School Engagement Grant earlier this year, the fully functional Bushwick Campus Farm in Brooklyn now hosts programs that teach students about childhood hunger, obesity, and local food issues.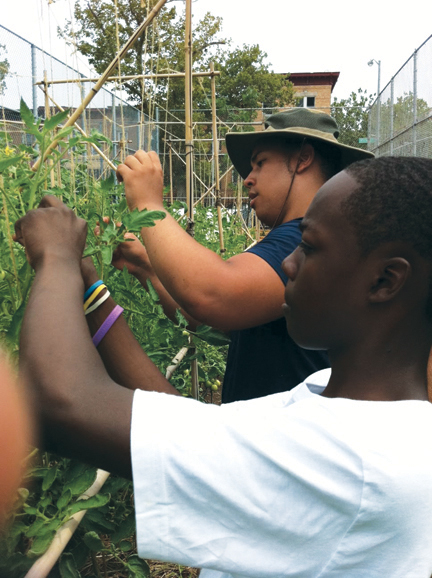 Kevin Ribot, a senior at the Academy of Urban Planning, and Akil Grubb, a 10th-grader at Brooklyn Latin School, inspect some of the plants thriving on the Bushwick Campus Farm.
Where last fall there was a flower box and an athletic field, there now resides the Bushwick Campus Farm, a 3,000-square-foot growing space in the heart of Brooklyn that boasts a colorful variety of vegetables and fresh produce. Located on the Bushwick Campus, which includes the Academy of Urban Planning (AUP), Bushwick School for Social Justice, and the Academy for Environmental Leadership, the plot has grown into a full-fledged garden thanks to efforts by community members on the Bushwick Green Team, formed earlier this year. The farm celebrated its official opening on September 16.
In May, the Bushwick Campus Farm received a $5,000 Sodexo School Engagement Grant from Youth Service America, an organization that strives to improve communities by increasing youth involvement. The farm was given the grant through its partnership with Greenproofing at City College of New York, a project that supports community-based and school-based green initiatives. The farm was one of 15 recipients of these grants nationwide (the only recipient in the NYC area), which encourage school communities to learn and raise awareness about childhood hunger and facilitate access to nutritious food for at-risk children.
The Bushwick Campus Farm is located in a "food desert" within the borough, where access to affordable fresh produce is limited and obesity and diabetes rates are high. The fresh produce from the garden will directly serve local families affected by food insecurity.
Thanks to the grant, the Bushwick Green Team has implemented a hydroponic growing system, a soil-less system that requires less surface area and uses water more efficiently, expanding the garden's growing capacity. It also has created new involvement opportunities for campus students through community partnerships and has a full schedule of community engagement events planned for the fall.
The farm serves as a hands-on learning opportunity for 12th grade students at AUP. "As a teacher, I want to make economics real. I want to help my kids understand economic principals through introducing food issues," says Adam Schwartz, a member of the Green Team and teacher of economics and participation in government at AUP. "I think about health care costs and the prevalence of diabetes, obesity, and stroke-kids aren't learning about these things in school. I want to teach my students who are teen parents how to better feed their kids." Besides helping to maintain the garden, the students in Schwartz's class will participate in a wide range of nutrition-based community outreach programs this fall, funded by the YSA grant. Those programs include helping out at the Bed-Stuy Farm and Food Pantry, working with Chrissy's Cooking Club to develop a healthy cookbook for distribution in the community, and participating in bilingual outreach programs.
Schwartz says he hopes the farm will continue to expand its programs in the future to more students and community members. "It's all about getting these kids to think about what's in fast food and what a food label means, so they can make their own effective decisions," he says.