NBC News special correspondent Chelsea Clinton read aloud to second- and third-grade students at the Brooklyn Public Library's Central Branch in September as part of NBC News Education Summit, which coincided with a series of free public library events.
NBC News special correspondent Chelsea Clinton stopped by Brooklyn Public Library's central branch on Sept. 27 to read aloud to second- and third-graders from PS 9 and PS 399.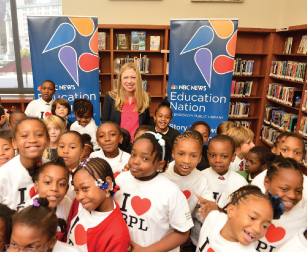 Philip Greenberg
After she was introduced by library president and CEO Linda E. Johnson, Clinton read "Amazing Grace" by Mary Hoffman and "The Gingerbread Boy" by Paul Galdone, then joined a BPL librarian to lead interactive games and activities for the children. This story time was part of a series of free public library events that coincided with the weeklong
NBC News Education Nation Summit.
About Education Nation and the Brooklyn Public Library
"Education Nation" seeks to create a thoughtful, well-informed dialogue with policymakers, thought-leaders, educators, parents and the public, in pursuit of the shared goal of providing every American with an opportunity to achieve the best education in the world.

Brooklyn Public Library is an independent library system for the 2.5 million residents of Brooklyn. It is the fifth largest library system in the United States with 60 neighborhood libraries around the borough. BPL offers free programs and services for all ages and stages of life, including a huge selection of books in more than 30 languages, author talks, literacy programs and public computers. BPL's eResources, such as eBooks and eVideos, catalog information and free homework help, are available to customers at their website: www.brooklynpubliclibrary.org.