This European-style circus, featuring a talented cast of mimes, acrobats, dancers, and gymnasts, will perform its current production, "Carnivale," at the Brooklyn Center for Performing Arts on October 31. Get the scoop on this one-night-only show that will delight children and adults alike.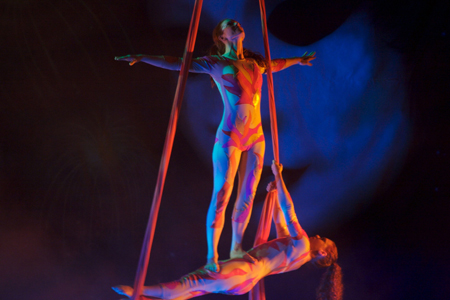 The alternative to the traditional big top circus is something decidedly more theatrical, more reliant on human capabilities and the physicality of dance and gymnastics rather than slapstick comedy and animal taming (which has its rightful place). This new, modern type of circus, exemplified by Cirque Le Masque, adopts a European school of circus; mime, acrobatics, the dynamics of music, lavish costumes, lighting, and special effects combine into something far more electric than what most Americans define as the "circus."
Show Info
What: Cirque Le Masque
Where: Brooklyn Center for the Performing Arts, 2900 Campus Road
When: October 31 at 3pm
How much: $27-$40
For more information: 718-951-4600 or www.brooklyncenteronline.org
For this event, Cirque Le Masque performs its current production, Carnivale, with an enticing narrative. "Moira," a young tourist, follows her dream of becoming a cirque - a Rio de Janeiro showgirl. She arrives in the Brazilian city and is swept into a world of acrobats, aerialists, comics, and other performers, and, with their help, summons the courage to follow her dream. During her journey, Moira gains the emotional tools to handle longing and feelings of self-sufficiency before overcoming them and finding happiness and love.
Throughout its 90 minutes, the story is told through 16 vignettes, nearly all featuring gravity defying acrobats whose physical strength and ability on the trapeze (without a safety net) provide much of the buzz surrounding this troupe. Performances are almost precariously close to the audience and such intimacy is one of Cirque Le Masque's calling cards.
Also see our roundup of the best Family Halloween Events in Brooklyn, and, for even more family fun throughout the month, visit our Online Calendar of Events.