Bring the Family!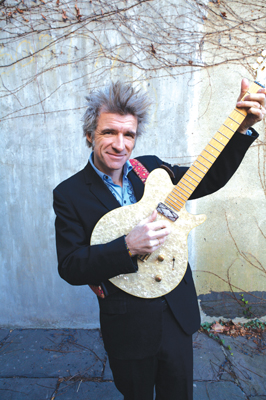 In Brooklyn, Dan Zanes is sort of a hometown hero. His CDs, in their eco-friendly cardboard packaging, are prominently displayed at the toy trap/haircut place I take my daughter to, and Zanes often stands on street corners around election time, bringing attention to a candidate he believes in. Instantly recognizable with his gravity-defying hair, Zanes is chatty, approachable, and friendly despite being a Grammy Award-winner, or having Ben Stiller grunt his name unapprovingly in a movie (Greenberg from 2009).
Zanes's concerts usually sell out on the strength of likability, but also because of the rootsy, mandolin-driven music that mixes originals and covers, the latter drawing from the great American songbook, ethnic folk songs, and early American roots music. Performing with him is a closely knit touring and recording band (the Friends of Dan Zanes & Friends), and often some surprise guests of note.
Zanes has popularized the idea of a family band, in which friends and family make music together. At his shows, this idea extends to the audience, making the live experience a truly interactive affair - and lending credence to Zanes's alleged love of "singing with everybody."
Details
What: Dan Zanes & Friends
Where: Music Hall of Williamsburg, 66 North 6th Street
When: November 27; doors open 2pm, show starts 3pm
How much: $25
For more information:
www.wellmonttheatre.com/event/5390
For even more family activities and events in Brooklyn, see the November Calendar Highlights or visit our Online Calendar of Events