Every Memorial Day weekend since 1977, the Brooklyn Academy of Music (BAM) has turned itself into a world stage for DanceAfrica. The tradition was hatched to showcase Africa and its diaspora, which at this point seems to have stretched globally. Past events have covered the African-influenced dance traditions of Brazil and Haiti, themes such as "Rhythmic Legacies," and the links between traditional and modern styles of dance.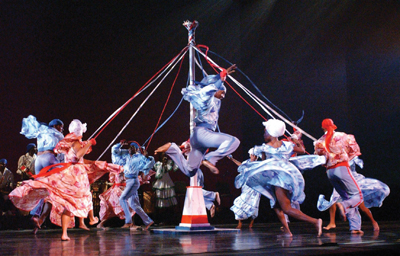 DanceAfrica 2011 goes Afro-Cuban with a program titled Expressions and Encounters: African, Cuban, and American Rhythms. Performances integrate the vibrant colors and costumes of Afro-Cuban dance with musical traditions-notably the son and gaga styles-that were popular among Cuba's African underclass in the early 20th century. Son and gaga led the way to mambo and Latin big bands, and eventually to salsa, which emerged largely in New York.
The program stays close to African traditions. Among the performers is Ballet Folklorico Cutumba, whose rich vocals and orisha steps honor the deities of the African Yoruba dances. Hailing from eastern Cuba, the Ballet also features Haitian dances that are part of that region's cultural tradition. Joining them on the program is the Kulu Mele African Dance and Drum Ensemble, a Philadelphia group that draws from the drumming and dance styles of Haiti, Brazil, Nigeria, and, of course, Cuba. The bill also includes the Bambara Drum and Dance Ensemble and the BAM/Restoration DanceAfrica Ensemble, the latter featuring children from surrounding neighborhoods. A DanceAfrica 2011 master class for families and children (see calendar) includes workshops in dance and music.
The event will be interwoven with the Si Cuba! Festival, which fills the city with a celebration of Cuba's art and culture. Much of the Si Cuba! activities also happen at BAM, which presents Cuban films and artwork, an outdoor bazaar selling Cuban and African crafts and food (see listing in this month's calendar), and music such as the Creole Choir of Cuba, who perform in June.
Also see: Brooklyn May Calendar Highlights: Family Activities
Our Online Calendar, for even more upcoming events in Brooklyn and the New York metro area