Related: children, kids, Black History Month, Wyckoff Farmhouse Museum, Weeksville Heritage Center, colonial life, ,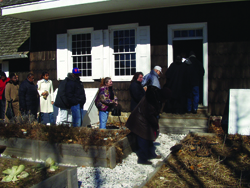 To celebrate Black History Month, the Wyckoff Farmhouse Museum and Weeksville Heritage Center are offering families an opportunity to step back in time and experience African-American life in colonial Brooklyn.
African Lives: From Wyckoff to Weeksville lets you see what life was like for African-Americans during slavery, and then once slavery ended in New York State. Tour the Wyckoff Farmhouse Museum, learn about colonial life, and hear a lecture about Isabella Van Wagenen (Sojourner Truth). Then hop on the shuttle bus to the Weeksville Heritage Center for a guided tour of the historic Hunterfly Road Houses, one of the first three settlements in New York City dating back to 1850-1883. Make a cornhusk doll and learn about the agricultural history of colonial Brooklyn. FREE. All ages. Reservations required. February 28. 12-4pm. Wyckoff Farmhouse Museum, 5816 Clarendon Road at Ralph Avenue. 718-629-5400.

www.wyckoffassociation.org

.
More Education Articles
How to Prevent a Homework Meltdown
Literacy Resources in the New York Metro Area
Literacy Resources in Nassau County, Long Island
Literacy Resources in Suffolk County, Long Island
Literacy Resources in Queens

Be a good fellow parent and share this with a friend who would be interested
Local Education Sponsors
See Our Education Directory