Thanks to a recent expansion, New York Methodist Hospital (NYM), in Park Slope, can now provide on-site pediatric surgical care 24 hours a day, seven days a week. To ensure the highest quality pediatric surgery, pediatric surgeons Edward Shlasko, M.D., and Karen Chun, M.D., have joined the hospital staff.

Another addition to NYM's offerings is a new minimally invasive pediatric surgical procedure — video assisted thorascopic surgery (VATS). VATS greatly reduces the recovery time for children with complicated cases of pneumonia by enabling surgeons to drain the fluid that can collect between a child's lungs and ribcage when the infection becomes severe. "Patients recover from the actual operation itself almost immediately, but still need to stay in the hospital for a week or two in order to treat the underlying causes of pneumonia," says Dr. Shlasko, who is chief of pediatric surgery.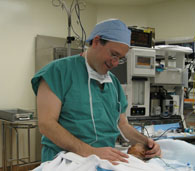 VATS can also replace a major surgical procedure. "In the past, surgeons would perform a thoracotomy, an operation that entails entering the chest cavity through a large incision," says Dr. Shlasko. "Doctors eventually became reluctant to perform thoracotomies because of the complications associated with the procedure, so they treated pneumonia with prolonged courses of antibiotics instead. VATS enables surgeons to treat pneumonia with fewer complications and shorter courses of antibiotics."

For more information on pediatric surgery at New York Methodist Hospital, call 718-780-5696 or go to www.nym.org. For a pediatrician affiliated with NYM, call 718-499-CARE.