Two Thumbs Up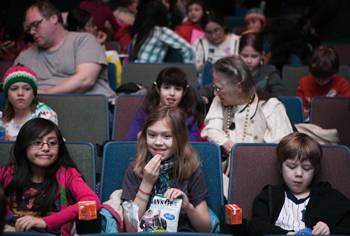 Every year, Brooklyn Academy of Music (BAM) adds to its repertoire of brilliance with the BAMkids Film Festival, two days and evenings of short and feature-length cinema aimed at the younger set, but of an artistic caliber so high that parents enjoy the show, too. This is cinema truly worthy of being associated with BAM.
For BAMkids' 13th season, the program features six programs of shorts and six features, all of which, while not bearing an MPAA rating, are given an age-range for audience suitability. In a shorts program for children 2-5 years (the "Huggable Heroes" program), you'll see the sweet Have We Met?, which documents the moments when three-month-old twins first notice each other. Fans of the animated series Pingu will be privy to the New York debut of Pingu: Babysitting, in which the adorable penguin's babysitting initiation ends in utter chaos. There's New Digs, in which a loveable hamster, feeling neglected and sad, decides to leave home before his owner arrives with a big surprise.
Among the features is the endearing Rafiki, a Norwegian production that follows three girls of different backgrounds through an emotional ride of separation and reunion. An animated feature, Light of the River, chronicles a family of rats as they face expulsion from their home yet encounter kindness and kindred spirits along the way to a new abode.
These 65 films from 22 countries, all chosen by curator Nicole Dreiske, are representative of the greatness of independent cinema. They are made with low budgets but also with the talent, vision, and immediacy lacking in so much lavish Hollywood fare.
Details
Where: Brooklyn Academy of Music, BAM Rose Cinemas, 30 Lafayette Avenue, Brooklyn.
When: February 5-6, various times.
How much: $12; $9 children under 13 and seniors.
For more information: www.bam.org
Also see: Brooklyn Activities for Kids and Families in February 2011
Our Online Calendar, for even more family events in Brooklyn, Manhattan, and the New York metro area