Ladysmith Black Mambazo, a South African-based vocal group, brings its cultural heritage to audiences in Brooklyn this March.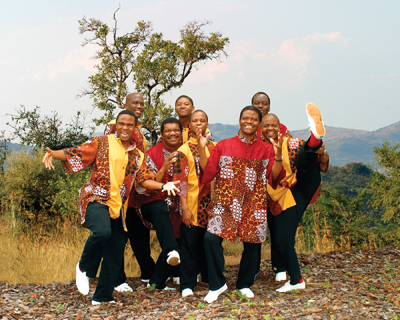 Ladysmith Black Mambazo began life as a gospel group, its noble intention to spread brotherly love. That was back in 1960 or so, in Durban, South Africa. Decades later, the group would emerge as "South Africa's cultural ambassadors," a mantle imparted on it by Nelson Mandela.
The cultural ambassador title is deserving. Founder and leader Joseph Shabalala took the group's humble origins singing the traditional isicathamiya music of the Zulu nation, which relies on close, tight-knit harmonies, and propelled it to international fame by incorporating songs of empowerment and strength in the face of South Africa's government-sanctioned apartheid policies. Under that racist regime, the country was divided into four distinct racial entities, with blacks being at the ladder's bottom. Isicathamiya was heard in the diamond mines where black workers worked six-day weeks, housed in shabby conditions far from their families. Ladysmith Black Mambazo was, at turns, spiritual, uplifting, and mournful.
The group remained South Africa's best-kept secret, popular in Europe and the African diaspora, until, in 1986, members' appearance on Paul Simon's album Graceland catapulted Ladysmith to international stardom. Since then, the group has worked with artists from Dolly Parton to Stevie Wonder to Michael Jackson, and performed before Queens and Popes - and on Sesame Street.
Joseph Shabalala continues to head the group, bringing South Africa's real cultural heritage to audiences across the globe, including those in Brooklyn. Survivors and pioneers, Ladysmith is proof of South Africa's freedom following years of oppressive policy. Go hear them if just to stare and marvel at everything they've been through.
Show Details
What: Ladysmith Black Mambazo
Where: Brooklyn Center for the Performing Arts, 2900 Campus Road, Brooklyn
When: March 19, 8pm
How much: $37; $40 at the door
For more information: 718-951-4500 or www.brooklyncenteronline.org
Also see: Brooklyn Calendar Highlights: March Events for Families
Our Online Calendar, for even more family activities in Brooklyn and the New York metro area