Kate Tempesta's Urban Golf Academy opened a new location in Brooklyn, offering golf lessons to kids of all ages.
At Kate Tempesta's Urban Golf Academy, the focus is on fun. "Children learn through play," says Mari Lazar, managing director. "Golf can be overwhelming to any new player, so we set kids up for success by keeping it fun while we teach them the rules, etiquette, and techniques."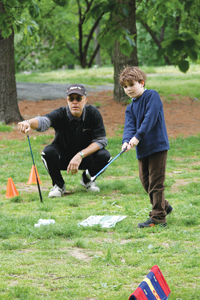 Due to the high demand for the academy's engaging lessons, the company, which already has multiple locations throughout Manhattan and the Hamptons, expanded into Brooklyn by partnering with the Marine Park Golf Club in June.
Founded by Kate Tempesta, an early childhood educator and LGPA professional, the Urban Golf Academy's Brooklyn location will offer lessons on Saturdays and Sundays from September 12 to October 31. Two programs will be available to children at the newly renovated facility: Early Birdies, for ages 4-6, and the PLAYers Program, for ages 7-11. Classes, which take into account age and individual learning styles, foster not only golf skills and athletic ability but also the development and confidence of young players.
The new facility at Marine Park Golf Club is located at 2880 Flatbush Avenue in Brooklyn.
See our comprehensive guide to kids' sports classes in the NYC area