Two new Kumon Learning Centers in Brooklyn are offering math and reading help to kids in Prospect Heights and Gravesend-West.
Kumon, one of the most prominent after-school math and reading enrichment programs in the U.S., has opened two new locations in Brooklyn. The new centers, located in Prospect Heights and Gravesend-West, will bring the tried and tested Kumon Method to children of all ages, from preschool to high school.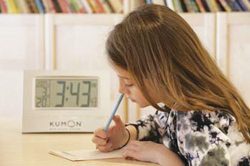 Kumon takes a linear approach to learning, believing that children should practice daily and master each level before moving on, thus creating a solid foundation of math and reading skills. "We are not a 'quick fix' program," explains Carlos Saavedra, owner of the center in Prospect Heights, which opened in May. "We're here to develop independent learners with strong study skills, concentration, focus, and confidence, making them more [well] rounded individuals so that they have a prosperous academic career."
Saavedra's center and the new center in Gravesend, which opened in July, hold classes twice per week. During class, children work on assignments and receive guidance from their instructor with the goal of advancing two or three years beyond their grade level.
Kumon's Prospect Heights location is at 669 Vanderbilt Avenue; for more information, call 718-636-2029 or visit www.kumon.com/prospect-heights. Kumon's Gravesend-West location is at 273 Avenue U in Brooklyn; for more information, call 347-587-2333 or visit www.kumon.com/gravesend-west.
Find more tutors and learning centers in the Brooklyn area