Related: R.H. Macy, fishing, contest, 63rd, 2010, July, 14, Prospect Park, Brooklyn, NY, NYC, family, activity, kids, children, Peninsula, freshwater, lake, Urban Park Rangers, workshops, fish, aquatic life,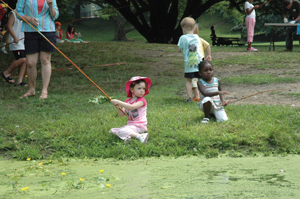 One of Brooklyn's longstanding and fun-filled summer traditions is the annual R.H. Macy's Fishing Contest in Prospect Park. This year, the contest, sponsored by Macy's Foundation, marks its 63rd year as a rite of passage for Brooklyn kids ages 15 and under. Held lakeside at the Peninsula, the only freshwater lake in Brooklyn, the contest runs for four days each July.
Typically, to initiate the event, a fish named R.H. Macy is released into the lake, with big prizes for the kid who catches it (past prizes included a boat trip along Sheepshead Bay). Awards are also given for catching the most fish, catching the biggest fish, and various other accomplishments. Prizes are awarded daily for the most fish and longest fish caught. But what kids and adults seem to love most about this laidback fishing contest is the respite it offers in the middle of the big city, which is part of the reason it draws families from all five boroughs.
As part of the event, kids can participate in free workshops led by the Urban Park Rangers that include "Meet the Fish," which introduces different types of fish, and "Life in the Lake," where children learn about aquatic ecology. The "Let's Go Fishing" workshop offers kids basic fishing techniques.
Equipment is provided free of charge or participants can bring their own. All fishing is done on a catch-and-release basis.
Info
What: R.H. Macy's 63rd Annual Fishing Contest
When: July 14-18, 10am-4pm
Where: Park Drive and Wellhouse drive shoreline. Closest entrance is Vanderbilt Street and Prospect Park Southwest

Registration: Groups of 10 or more must register in advance. Individuals can register on site.
For more information: 718-287-3400, ext. 101
---
Get Your FREE Indoor Activity eGuide!
---
More Recreation/Outings Articles
2010 Nassau Coliseum Fair in Uniondale, NY
DanceAfrica 2011 at BAM: Viva Cuba!
Brooklyn May Calendar Highlights: Family Activities
Spring 2011 Bird Watching Events in Westchester County, NY
Westchester County, NY, May Calendar Highlights: Activities for Families

Be a good fellow parent and share this with a friend who would be interested
Local Recreation/Outings Sponsors
See Our Recreation/Outings Directory