Mathnasium, a math tutoring and learning center for kids, opened a new center in Brooklyn Heights, the third Mathnasium in NYC.
Carl Giordano worked on Wall Street for 14 years before he realized that he wanted to do something more rewarding with his life. With that idea in mind, Giordano opened Mathnasium in Brooklyn Heights in June.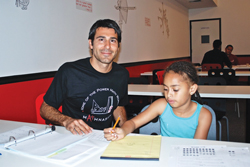 Mathnasium is a franchised learning center with more than 250 establishments in the nation. These centers, catering to kids in kindergarten through grade 12, specialize in the improvement of children's mathematical skills and their understanding of mathematical concepts. Since 2004, multiple independent studies conducted by EyeCues Education Systems have found Mathnasium to be effective 100 percent of the time.
"It's not a secret that [America] is facing a crisis in math and science," Giordano says. At Mathnasium, all students receive an individualized learning plan based on the goals and needs of each child, one-on-one instruction from qualified tutors, and homework help. "The whole point is to identify the child's area of weakness and put together a learning plan that addresses those weaknesses and ultimately gets that child back to grade level," says Giordano, who offers free skill assessments to new students.
The Brooklyn Heights center, the third Mathnasium in NYC, is located at 392 Atlantic Avenue.
Find more tutoring and academic centers in the Brooklyn area