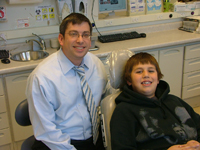 Meet some of the health professionals in Brooklyn, including pediatricians, dentists, and nutritionists catering to kids and families.
GENESIS FERTILITY AND REPRODUCTIVE MEDICINE
1355 84th Street
(718) 283-8600
www.genesisfertility.com

Dr. David Seifer has been engaged in active clinical practice, including all aspects of in vitro fertilization, for 20 years. He has been identified by Good Housekeeping Magazine as one of the best physicians in the nation in the field of Reproductive Endocrinology and Infertility, was named by New York Magazine as one of the best doctors in the NY Metropolitan area for seven consecutive years, and the Castle Connolly Medical Guide recognized Dr. Seifer as one of America's Top Doctors consistently for the past seven years. Recently, Dr. Seifer received a Patient's Choice Award from Castle Connolly.

HANSON PLACE ORTHODONTICS
One Hanson Place, Suite 707
(718) 622-2695
www.hansonplaceortho.com

Don't hide your smile anymore! Come to Dr. Yakov S. Eisenberger at Hanson Place Orthodontics. We work with the whole family on all your orthodontic needs and offer a variety of style options, such as MicroArt System metal braces and Invisalign. Adults, children and adolescents are welcome, and we have clear and colorful braces. Most insurance is accepted and we have affordable payment plans too. Conveniently located in the Clock Tower building, near Atlantic Avenue subways and buses. See our ad in this issue and call Patti for an appointment.

MAO, DR.
829-57th Street
(718) 686-0188/(718) 375-3738
Dr. Mao is a board certified Neurologist, Pediatric Neurologist, Epileptologist. A member of the Neurology Society Child Neurology Society, Epilepsy Society, we service children with headaches, numbness, ACHD, autism, speech delays, learning delays, mental retardation, seizures, cerebral palsy and birth defects. We have EEG, EMG, MRI, carotid dopler, and TCD lab available. We accept most insurances. For more information, please call.

RAKOWSKA, URSZULA DR.
698 Manhattan Avenue, 2nd Floor; (718) 389-PEDS (7337)
150 E. Sunrise Highway, Suite 200, Lindenhurst; (631) 956-PEDS (7337)
Pediatric immediate care is a team of hearts. Where kids come first. Our state of the art medical office equipment allows us to deliver results of your tests during your visit. Urszula Rakowska has over 21 years of experience in pediatric and urgent care. Urszula Rakowska, MD, FAAP, MBA, CPE, Assistant Professor Pediatrics and Emergency Medicine. Her offices are open every day, 7 days a week, 8am-11pm including holidays.

SENSORY FREEWAY
8802-8804 5th Avenue
(718) 769-1683
Email [email protected]
Dr. Anna Len is a clinical director of Sensory Freeway Rehabilitation Center. Dr. Len received her doctorate in physical therapy from New York University in 2003. She has advanced training in Sensory Integration and has been involved in the field of Autism for over 10 years. In 2006, Dr. Len joined the NYU faculty as an adjunct professor and a master clinician. Dr. Len greatly enjoys helping children achieve their maximum potential and strongly believes in a collaborative treatment approach.

SUNSET ORTHODONTICS
476 48th Street, 3rd Floor
(718) 439-2822
Orthodontics is the specialty of dentistry that treats developing bad bites that result not only in poor tooth appearance, such as crooked teeth, overbites, deep bites, etc., but also in poor function, which inevitably leads to compromises in quality of life. Problems in the relationship of our jaws can also be prevented with early intervention. As her credentials show, Dr. Barillas is one of the most qualified specialists in New York and offers the highest standards of care in a friendly and warm environment. Visit us for a complimentary exam.

THERAPEDIA INC.
7608 15th Avenue
(718) 513-6273
Email [email protected]
Lyudmila Teshler MS OTR/L received her Masters degree in Occupational Therapy from Touro College in Bayshore. Lyudmila is an experienced pediatric practitioner working with children of various neurological disabilities, developmental disabilities and behavioral concerns. Her specialties include sensory integration dysfunction, autistic spectrum disorders, behavior management issues, learning disabilities and ADHD. Lyudmila has a background in school based therapy through the NYC Department of Education, and behavior management training at Schneider's Children's Hospital.