On any given day, making his rounds as director of pediatric allergy and immunology at Maimonides Medical Center in Borough Park, Brooklyn, Dr. Michael Marcus communicates with parents and young patients in up to six or seven different languages. Dr. Marcus is able to call upon staffers who speak Spanish, Russian, Korean, Chinese, Arabic or Urdu. But chances are, these families have felt the universal language of caring well before the interpreter arrives. The Infants & Children's Hospital at Maimonides is not just the only children's hospital in Brooklyn, it is unique in its approach to the care of its young patients.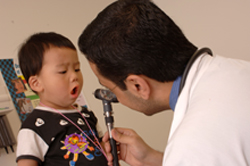 The facility became a certified children's hospital two years ago, but this spring it will be a freestanding unit when it moves into its new quarters, a project 10 years in the making.

To say that staffers are excited would be an understatement. "We are already the biggest and best-kept secret in New York," says Dr. Marcus, who then proceeds to outline the many impressive aspects of the children's hospital's exceptional programs: a nationally-recognized facility for the treatment of strokes in children; a kids' weight loss program with an 80 percent success rate; a pediatric epilepsy center staffed by epiloptologists, a new sub-specialty of neurology; a nationally recognized children's cancer treatment center; a pulmonary department with one of the lowest hospitalization rates for asthma in the country; and a Child Life department where emotional care is stressed in equal terms with the medical.

"We have all the required subspecialties of a children's hospital, with nationally recognized physicians, nurses and other medical specialists. This abundance of subspecialties makes life easier for families who have a child needing care," sums up Dr. Steven Shelov, chairman of the Pediatrics Department. "For example, when a child enters the ER, the pediatric doctors are right there. The child can get a CT scan and if he needs to be admitted, the staff brings the patient upstairs. The X-ray results are available 24/7, right here as well."

Designed with kid input
If the immigrant families who make up most of the patient population are accustomed in their native countries to sub-standard medical care in decrepit facilities, arriving at Maimonides — even with a gravely ill child — is likely to engender tears of joy. The new building's pediatric intensive care unit will have 11 beds, in 10 rooms. Each patient room will have a wall of glass for observation purposes. Parquet floors replace the standard institutional linoleum. A child lying in bed will glance upward to a ceiling painted with stars or clouds or trains. Parents will be allowed to stay overnight in the child's room. And care will be constantly visible, with a satellite nursing station between every two patient rooms. "Our goal was to build a state-of-the-art unit," says Dr. Marcus, who adds that doctors, nurses and young patients contributed to the design ideas.

Children coming to the hospital for in- or outpatient procedures are greeted by staffers from the Child Life department, whose mandate is to decrease emotional stress before and after treatment. "Our goal is to normalize the hospital experience," explains Amanda Honeyman, who, like the three other Child Life staffers, holds a Master's degree in a field like child development, art, dance or music therapy; Honeyman majored in Child Life. When a child arrives and a battery of tests begins, or while the child is being prepped for a procedure, Honeyman and colleagues step in "to normalize the environment," as she terms it.

"We're the fun people," she explains with a smile. "The hospital can be a scary place for children. We're here to bring things back to reality." If a child arrives for an appendectomy, for example, the Child Life specialist will use children's books to explain what the appendix is, why it's now a problem, how the doctor is going to remove it, and what will happen after the surgery. Child Lifers accompany young patients to the operating room if necessary, and are there when the child opens his eyes in recovery.

Art, play, music and dance are used therapeutically in the unit's playroom. "Kids express a lot of non-verbal fears and issues through play," observes Honeyman, who adds that her specialty aims to offer coping skills to children who may be facing treatment for conditions as serious as cancer. A doctor may administer pain medication; the Child Life specialists complement this with relaxation and guided imagery techniques to help patients cope mentally with the pain.

Last year, Maimonides opened a stand-alone cancer center — with a department devoted to children. It enables Maimonides specialists to provide complete oncology care — on-site — relieving parents of the added stress of having to take their children to cancer centers in Manhattan. Because of the level of care they offer, Maimonides loses some young patients whose bodies reject even the most advanced treatments. "The kids who are not going to make it — well, we try to focus on celebrating what they can accomplish. It's true — being hospitalized is not fun. But it's a little more fun with us here," Honeyman says of the work accomplished by her department.

Success with a "unified" approach
Celebrating accomplishments occurs on a daily basis in less acute but nevertheless serious areas of care. Like stroke, which is not limited to the middle-aged person with risk factors. In fact, it's common enough in children to warrant a specialty focus, led at Maimonides by a recognized expert in the field, Dr. Steven Pavlakis. "We see children suffering strokes after accidents, or from undiagnosed blood problems or infections," explains Dr. Marcus.

The new facility will allow expansion of the hospital's current pediatric epilepsy center with the installment of round-the-clock EEG monitoring. Rather than sporadic checks, kids will be observed for much longer periods to get a clearer picture of the patterns of their condition, and to be treated within the broader epiloptology specialty.

In pulmonary care, Maimonides Children's already has the lowest rate of hospitalization for any hospital in Brooklyn, and one of the lowest in the country, says Dr. Marcus of his area of expertise. Three pediatric pulmonologists and two nurse-practitioners follow what Dr. Marcus describes as a "unified approach" to care, keeping in close contact with patients after they leave the hospital, calling parents to check that children are taking their medications, and keeping track of changes taking place in the home that may elevate the stress levels of young patients.

A similar unified approach to treatment is followed in the hospital's Weight Down Program. Specialists put as much emphasis on behavioral and psychological issues as nutritional ones, involving all family members in the treatment of young obesity patients who, unchecked, are developing Type 2 diabetes at the rate of the elderly. "Parents are responding in a very positive way," reports Dr. Marcus. "Our success rate is 80 percent for weight loss — and, importantly, keeping it off."

To read more about Maimonides Infants & Children's Hospital, go to www.maimonidesmed.org.