Learn about two new Brooklyn businesses - Spa-Di-Da, a spa party center, and the art room, a fine arts school - that cater to kids and families.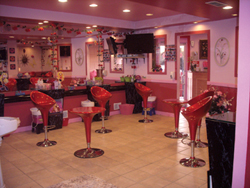 Pamper Parties
Spa-Di-Da, Staten Island's only spa party center, will open its first Brooklyn branch in Dyker Heights this October.
Manager Lori Menake says she was inspired to open to business a year and a half ago by her daughter Tatum, 7, who would always tag along when Menake went to a local spa for a manicure or pedicure. "Little girls love to get pampered," Menake says.
Spa-Di-Da offers several full-service spa party packages that can be personalized to the birthday boy or girl, Menake says, including parties especially tailored to boys. "It's one-stop shopping. We offer everything from favors to cake," Menake says, adding that parties include several hosts, one of whom is solely responsible for the guests' entertainment. In addition to spa amenities, each party also features karaoke and flat screen TVs that play the children's favorite shows, Menake says.
The center also offers spa play dates for four or more children.
Spa-Di-Da is located at 4108 Hylan Boulevard in Staten Island and will open in Dyker Heights next month; call 718-356-7278 or visit www.spa-di-da.com for more information.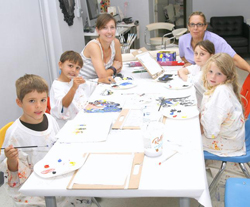 Classes That Go Beyond Crayons
New to Bay Ridge is the art room, a fine arts school that caters to children ages 3 and up, which opened its doors June 5.
Classes at the art room give children the opportunity to use fine art materials, says Founder Leigh Holliday, adding: "It's beyond crayons." The school uses a process-oriented approach, which means seeing an art work through from A to Z rather than rushing through the process. "We like [our students] to take their time, do some sketches first, and work through their ideas, then have a finished product a class or two later," says Holliday, who believes this method separates her school from others in the area. "Most people try to just send kids home with stuff, but we truly believe that kids leave here having learned something." Holliday also believes art is crucial to young children, as it helps build self-esteem and opens their minds to new ways of thinking.
In addition to its regular classes, the art room offers parents the opportunity to create their own private art class for five to eight children (at no extra cost). On weekends, the school is available to host art-themed parties.
Located at 8710 3rd Avenue, Bay Ridge. 347-560-6572. www.theartroomnyc.com.