For many years, the Old Stone House (OSH) had been that small house at the back of a somewhat scary park. But in just a few years, OSH has spearheaded a variety of programs that have become neighborhood staples.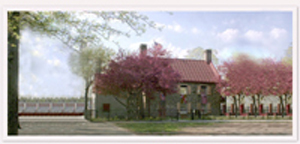 Leading this revival is executive director Kimberly Maier, who modestly deflects credit, saying, "It's not just me. I'm a connector."

Both connector and connected, Maier was president of the PTA at the adjacent middle school, MS51, when the interim director contacted the school, wondering why the Old Stone House, site of the Battle of Brooklyn in August 1776, wasn't being incorporated into the school's curriculum. A Park Slope resident for 24 years, Maier had never been to OSH, but quickly engaged the board and was offered the position of executive director.

The job is the right combination of Kim's professional and personal passions, community-based development and cultural events programming. She had stayed home with her two daughters, and was starting to feel the itch to return to full-time work. Her daughters, now 13 and 16, are very much on her mind as she plans events to appeal to families.

Maier also credits the community development that has gone hand in hand with OSH development. She says the park is much safer, and a steady influx of new residents interested in a public space provided the perfect "confluence of events" that led to the area's revival. Across one corner from the park, the popular Stone Park Café has transformed a long-vacant storefront, and even Fourth Avenue, on the other side of the park, is undergoing residential and commercial improvements.

In addition to OSH's rich education program for students in grades K-8, offerings at OSH include a monthly reading series curated by local author Louise Crawford, family events developed with co-founder of Park Slope Parents, Susan Fox, and a music series ranging from jazz to chamber music during the cooler weather. Maier focuses on Brooklyn artists and history, and the events are able to draw on a number of local artists. Maier was also instrumental in bringing a farmer's market to the park, which operates in warmer weather on Sundays.

Because OSH is small – it has a maximum seating capacity of 75 – programming expands vastly in the summer months, when it is able to take advantage of the outdoors. For several years, there has been a month-long summer theater program in July, run by John McEneny from MS51 and Ilana Dogim from nearby elementary school PS321. Workshops are for ages 7-16. This summer, students will perform Alice in Wonderland, The Witches, Lord of the Flies and Dracula. OSH's equity showcase, directed by Ray Virta, will be a Luna Park-era, Coney Island-themed A Midsummer Night's Dream. All performances are free and open to the public. Also in July are free movie nights on Wednesdays, and this year, Maier is planning to introduce "Opera on Tap" as part of the Tuesday night concert series.

To find out more about Old Stone House programs, go to www.theoldstonehouse.org or call 718-768-3195.