News Release
September 8, 2009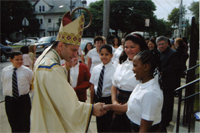 On Tuesday September 8, 2009 Bishop Frank Caggiano celebrated a New School Year liturgy at St. Mark Church, Sheepshead Bay for all teachers and principals in the Catholic elementary schools of the Brooklyn Diocese. A breakfast reception followed for all attending was hosted by St. Mark School, which this year celebrates its 85th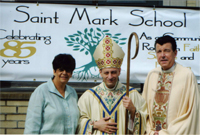 anniversary as a Catholic community "rooted in faith, service, and education."
For further information, contact Father Joseph Grimaldi, Pastor, at 718-891-3100; or Carol Donnelly, Principal, at 718-332-0973.
Left: Bishop Frank Caggiano wishes St. Mark School eighth grader Sarah LeForest well this school year. Bishop Caggiano celebrated a special liturgy for Catholic School Teachers at St. Mark Church Sept. 8. Fellow students Joseph Wash, Nicholas Pugliese-Davis, and Faith Maung (left to right) proudly looked on.
Right: Bishop Father Caggiano (center) joins St. Mark Parish, Pastor Father Joseph Grimaldi (right), and School Principal Carol Donnelly (left). Bishop Caggiano led the Euchurist Celebration for Catholic School Teachers at St. Mark Church. As the new school year begins, St. Mark School is celebrating 85 years as a "Community rooted in Faith, Service, and Education."