Sonic Soccer, an indoor soccer program run by Park Slope Day Camp Sports Academy, kicked off its first session in December 2011. Their next session will start at the beginning of February 2012.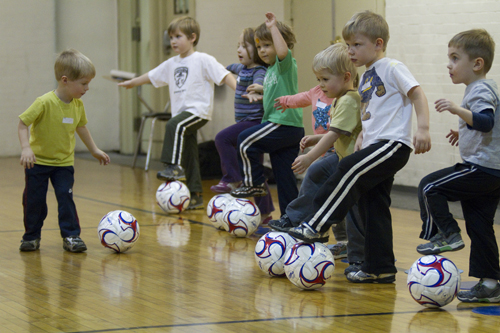 Sonic Soccer, an indoor soccer program for kids ages 2.5 through 10 years old, kicked off its first session in December, with a second one scheduled for the beginning of February. Yannick "Sonic" James, the director of coaching at the Park Slope Day Camp Sports Academy, runs the new classes that stemmed from the success of the summer soccer program.
The new indoor winter program offers two 8-week sessions that focus on younger children and are less intensive than the summer counterpart. "Parents asked us over and over again to have a class for younger children, so now we do," James says. The summer Sports Academy is for children entering grades 1-5, but toddlers as young as 2.5 can participate in the winter sessions. The winter sessions also have a more structured class environment, though the curriculum is similarly focused on mixing skill technique with a lot of "feet-on" play.
James explains that the philosophy behind each class is the same, though the teaching technique might be different depending on the age group. "We're looking to build confidence by giving kids success that is tangible," he says. Sonic Soccer uses Brazilian Futsal soccer balls, which are small and weighted, which prevents them from moving too fast. With this tool kids are able to keep the ball closer, which makes the game easier for them. "The balls kind of stick to your foot a little bit," James explains. "We want to create a situation that will lead to success."
Sonic Soccer is held at P.S. 58, 330 Smith Street (between Carroll and First Streets) in Carroll Gardens; and at John Jay Educational Campus, 237 7th Avenue in Park Slope. The next winter session begins in February; call 718-788-PSDC (7732) for more information or register at www.sonicsoccerfun.com.