Two swaggering toddlers square off over a plastic purple maraca. Taking advantage of his adversary's saggy-diaper stumble, one grabs the booty and runs, leaving the other to ponder loss, desire and the injustice of wardrobe malfunction while chewing the rim of a tambourine.

Kids face the big questions daily at the Hootenanny Art House, Park Slope's newest destination for diminutive denizens of the neighborhood. Co-founders Kira Smith and Pete Heitmann hope the youngsters will find answers, or at least make rocket ships out of cardboard boxes.

"We see this space as a creative home for our community," says Heitmann, "a meeting place where people can play music, make art, and exchange ideas about life."

The Art House occupies the space that used to house Musical Bridge, a franchise of the successful nationwide program, Music Together. Heitmann and Smith continue to host daily Music Together classes, but they've added a concoction of original art and dance courses, including ants-in-your-pants dance, hooten-art, and guitar for grown-ups.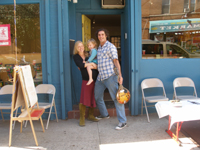 On Saturday afternoons, Hootenanny hosts "free art play", when families can experiment with supplies and see what happens. "A lot of what's available to kids comes from a ready-made culture that doesn't enhance their creativity," believes Heitmann. "We want to infuse this space with an energy of 'we can do it ourselves.' We want to encourage people to be creative and celebrate that here, together."

As artists, Heitmann and Smith have supported themselves by teaching, tending bar and delivering messages. Heitmann began teaching Music Together classes four years ago, when Smith was pregnant with the couple's daughter Zoe. The job, says Heitmann, "was something of a fluke. But I went with it and discovered this wonderful world — you can't have a bad day when you're jumping around like a kangaroo with a bunch of three-year-olds."

Starting a business, says Smith, "is not something we would have contemplated before we had kids. Once you become a parent, you want to work — you don't want to leave that world — but you want your kids around." Zoe has already contributed to the creation of the space, says Heitmann, pointing to a bathroom door and strip of molding his daughter painted. (The door has since undergone a redesign; the molding strip stands monument to Zoe's burgeoning decoration skills).

Hootenanny classes are significantly less expensive than many activities for kids in the neighborhood. Still, at $180 and up for a 10-week session, Heitmann and Smith recognize that they may be pricing some families out of the space. "It's something we've talked about a lot," says Smith. "We want to serve the whole community, and we definitely wouldn't turn anyone away for lack of funds. Once we're up and running, we want to do some kind of outreach and have a formal scholarship program." In the meantime, open art studio is pay-what-you-can every first Saturday, with a suggested $10 donation the rest of the month.

Heitmann and Smith describe the Art House as a work in progress, but their first month has achieved rowdy success. Nearly 250 kids are enrolled in the current session of art and music classes, and the next session is starting to fill.

A Monday morning Music Together class features 10 kids from tiny to pint-sized, beating drumsticks on the wall, boogying to Johnny Cash, and moo-ing and baa-ing in English and Spanish. The kids have fun and their caregivers are happy, though none seems certain they will experiment with Hootenanny's other, newer activities. Juliet Hahn, Park Slope mother of two, is enthusiastic about Hootenanny's redesign, but skeptical of trying another class. "One a week is enough for us right now," she says, with that dazed look parents get when they imagine adding another item to their schedule. Two-year-old Montgomery says that he likes the 'Hello' song, and seems content with that.

Heitmann and Smith are unsurprised by the hesitant response to their new ideas. "We know the music classes are solid," says Smith, "so we'll throw the rest out there and see what sticks." A planned ukulele class for kids and their grownups hasn't garnered much interest. "The feedback we've gotten is that by the time the kids are old enough for the ukulele, they're ready to rock out," says Heitmann. "We might have to do electric guitar instead."

Among other ideas the couple envisions for Hootenanny's future are holiday craft-making events, songwriting classes for older kids, and music jams for adults.

"My vision comes from when I was a kid in Pennsylvania, going to see bluegrass shows and banjo contests," says Heitmann. "You'd see the grandma playing the bass and the kid playing the guitar. This is the same thing, extended into the community."

"Filtered through punk rock," Smith adds.

Hootenanny is located at 426-428 15th Street, and can be reached at (718) 369-0528 or by visiting www.hootenannyarthouse.com.