Families looking for some outdoor activity in Brooklyn are sure to find something that interests them in Prospect Park. Spanning 585 acres, the park is situated between many popular neighborhoods and attractions and has something to offer everyone, from picnics to carousel rides to sea lion shows.
Brooklyn's Prospect Park is home to the borough's only forest and freshwater lake and the nation's first inner-city Audubon Center. The urban oasis is also packed with fun activities that draw families there throughout the year. Here, a suggested itinerary for your visit.
Daybreak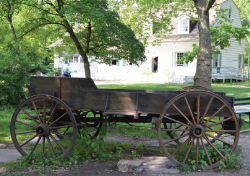 The Lefferts Historic House hosts seasonal festivals, including Harvest Days in the fall, which bring visitors back to rural, colonial life.
The park contains seven baseball fields between 9th and 15th streets. Two of these are major league-sized fields serving older age groups, and the other five are geared for younger children ages 8-12.
For active types, the bicycle path offers a 3.5-mile jaunt around the park. Or you can take in a game at the Tennis Center, which offers tennis lessons to kids of all ages, including those with special needs, throughout the season.
Head to the Lefferts Historic House, where you can experience Brooklyn family life circa 1820 and practice traditional tasks such as candle making, sewing, butter churning, and gardening.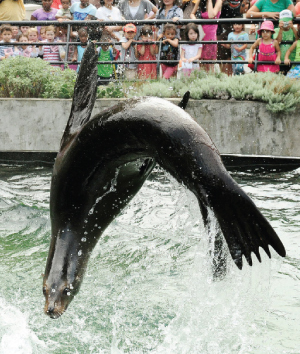 Watch the Prospect Park Zoo sea lions flip for fishy treats during daily feedings (11:30am, 2pm, and 4pm).
Midday
For lunch, there are countless restaurants and diners on 7th Avenue and alongside Prospect Park West and Southwest. Or you can bring a picnic lunch and sprawl on the gorgeous Long Meadow or the Nethermead—both are spectacular fields where park-goers often suntan and relax. There are also various restrooms around the destination spots throughout the park.
Afterward, head off to tour the Prospect Park Zoo (450 Flatbush Ave.), which is home to a variety of animals, from red pandas to monkeys. Walk the Discover Trail, where prairie dogs and kangaroos roam, and swing by the Sea Lion Court to see these aquatic performers put on a show several times each day.
Right outside the zoo, kids can enjoy a ride on the Prospect Park Carousel, a wheelchair-accessible ride featuring 53 carved animals and chariots.
| | |
| --- | --- |
| The Prospect Park Carousel is open April-November; for hours, visit prospectpark.org/visit/places/carousel. Cost is $2 per ride or $9 for five rides. | The Audubon Center, located inside the Boathouse, is a NYC landmark, and is surrounded by nature trails. The second floor is home to various live animals. |
At the Audubon Center, located in the Boathouse at the Lincoln Road/Ocean Avenue entrance, kids can view a human-sized bird's nest, explore the lives of insects, and take part in a variety of nature-inspired craft activities.
Sunset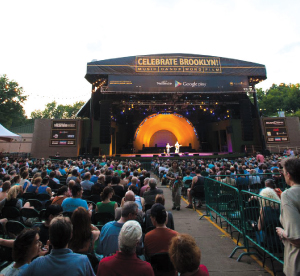 The Bandshell, which

hosts musical performances in the summer,

is one of the largest outdoor cinemas in the world, with a 21-foot-high and 50-foot-wide movie screen.
Harmony Playground, at Prospect Park West between 9th and 11th streets, has a music motif that includes xylophones that kids can play, and sculptures shooting out sprays of water. For a full list of playgrounds in the park, visit prospectpark.org/visit/places/play.
If your family enjoys water activities, the park is home to Brooklyn's only freshwater lake. Spanning 60 acres, it's a great spot to practice catch-and-release fishing and feed countless ducks, geese, and swans. The park plans to reinstate the lake's pedal boats next summer.
The Bandshell (located at the 9th Street and Prospect Park West entrance) hosts frequent concerts, most notably the Celebrate Brooklyn! summer music series (check bricartsmedia.org for upcoming performances).

Nearby Attractions


• The Brooklyn Botanic Garden (718-623-7200; bbg.org), off the park's northeast corner (1000 Washington Ave.), is a 52-acre garden that offers plant-related programs and activities for all ages, including a Children's Garden.

• Grand Army Plaza, which marks the grand northern entrance to the park, is the site of the second-largest open-air Greenmarket in NYC (held each Saturday, 8am-4pm) as well as the Food Truck Rally (first and third Sundays, April-October).

• The Brooklyn Museum (718-638-5000; brooklynmuseum.org),
off the northeast corner (200 Eastern Parkway), houses about 1.5 million artworks and offers regular exhibit tours and art programs for kids and families.

• Kensington Stables (718-972-4588; kensingtonstables.com) is located a few blocks outside the park's Ocean Parkway exit (51 Caton Place), in the southwest corner. With a reservation, adults and children ages 6 and older can take horseback rides through the paths of the park.