Related: big top, circus, elephants, acrobats, boardwalk, Nathan's,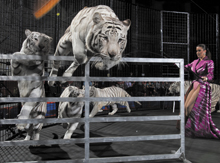 For the first time ever, Ringling Bros. and Barnum & Bailey Circus have set up their big top on the Coney Island boardwalk. Coney Island Boom a Ring, which opened in June, features thrilling acrobats, white tigers, Asian elephants, motorcyclists circling around a Globe of Steel at 65 miles per hour, daring archery acts, and more. Families get a close-up view of the show from under an air-conditioned white tent.

Special events with other Coney Island attractions, including the Wonder Wheel and Nathan's, will also be featured throughout the summer. All ages. Through September 7. Wednesdays, Thursdays, Fridays 2 and 7pm; Saturdays 2:30 and 6:30pm; Sundays and Monday, September 7 1 and 5pm. Some Wednesdays and Saturdays also offer a 10:30am show. See schedule online. Tickets range from $10 (upper bleacher) to $65 ringside. Surf Avenue and West 21st Street, Coney Island. 201-507-8900. www.ringling.com/coneyisland.
More Theater & Performances Articles
November Shows in Westchester for Families
Flushing Town Hall Reopens After Renovation for Spring 2014 Season
Blue Man Group Expands Birthday Party Package
Shen Yun Brings Chinese Legends to Life in NYC
Where to See 'The Nutcracker' in Fairfield this Year

Be a good fellow parent and share this with a friend who would be interested
Local Theater & Performances Sponsors



BAX/Brooklyn Arts Exchange
421 Fifth Ave. (corner of 8th Street)
Park Slope, NY
718-832-0018

A BAX birthday party is a celebration to remember!...
See Our Theater & Performances Directory