Commemorate the 10th anniversary of the 9/11 attacks with these family-appropriate memorial events in the Brooklyn area, including the Run to Remember on Governors Island, a spiritual concert at Church of Saint Ann, and a family art project at Wave Hill in the Bronx.
Ten years later and so many of us are still devastated by the tragic events of September 11. We remember where we were, what we saw, whom we talked with or rested our shoulders on. For the 10th anniversary of the attacks, several events offer different ways to honor the fallen.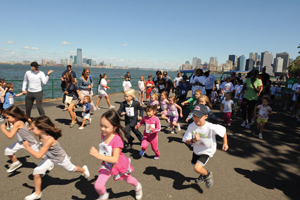 The World Trade Center Run to Remember 9/11 takes place on Governors Island, which has a gorgeous view of lower Manhattan. The event features three different running/walking races: a 5K for serious competitors, a family-friendly 3K, and a children's fun run. Proceeds benefit organizations associated with September 11-related services. 9:30-11am start times. $35 in advance; $40 on event day.
For something spiritual, Church of Saint Ann presents the Grace and Spiritus Chorale's Memorial Concert, with poetry and specially composed music selections. 4-6pm. Church of Saint Ann, 175 Montague Street, Brooklyn Heights.
Wave Hill, the public garden and cultural center in Riverdale overlooking the Hudson River, will hold two family events that observe the date artistically. Guest artist Randy Brozen will lead a Family Art Project: Paper Circles for Remembrance and Renewal workshop. Family members will make their own paper and shape it as a circle to reflect the changing seasons and cycles of life, then grace their circles with a yarn-loop hanger, or seeds to grow later. 10am-1pm. In the afternoon, visitors are invited to inscribe or illustrate strips of natural-fiber paper with personal reflections on the anniversary for a Wind Elegy. The many flag-strips will be affixed to the pergola to flutter gently in the breeze. At week's end, the papers will be composted to rest in the garden. 12-4pm. FREE. Wave Hill, 675 West 252nd Street, Bronx.
Also see: How to Talk to Kids About 9/11

Ideas on Why, How, and Where to Volunteer with Your Kids