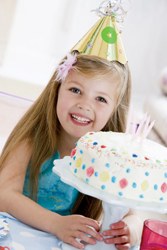 Food at parties seems to be an increasingly challenging issue. Some parents have gone organic, while more kids are diagnosed with allergies and lactose intolerances, and then there is the old-fashioned picky eater. See what advice the experts in your area had for parents about serving the right food at your child's birthday party:
"We ask parents not to bring any food that has touched peanuts and no piñatas because they could have candy with nuts."
-Winnie Szeto, Owner of The Little Gym
"We try to keep things simple by making sure there are no peanuts or peanut oil in the pizza. If a child has a specific allergy like tomatoes, parents have to let us know and in that case, they can bring their own food from home."
-Karen Litvin, Owner of Funtasia
"If the child needs a gluten free birthday cake, parents can bring it."
-Loretta Moretta, Owner of Play Days & Parties
"Try to serve a variety of foods and keep in mind it's a party so the food should be festive. Have the food be fresh and colorful. It's the quality of food not the quantity."
-Emily Rios, Director of Creative Cooks
"Find a venue that will work with you. We don't use peanut oil, and if somebody needs something like gluten free dough they can bring rice dough, or they can bring tofu cheese. Children with allergies shouldn't feel left out."
-Piper Wandzalik, Owner of Two Boots
"We usually serve pizza and for children with dairy allergies, we can serve chicken nuggets. If parents want to bring fruit salad or snacks, they can."
-Ella Portnoy, Owner of Kids World of Fun