Related: Stork, Crown Heights, Brooklyn, clothing and gifts, Eyana Carballo,



Spring is here and so is Stork, a new local clothing and gift store for children 6 and younger. Located just a few blocks north of the Franklin Avenue 4-train stop in Crown Heights, Stork's mission is to provide families with clothing, shoes, and gifts that are affordable, high-quality, eclectic, and (almost always) designed by people who live nearby, says owner Eyana Carballo.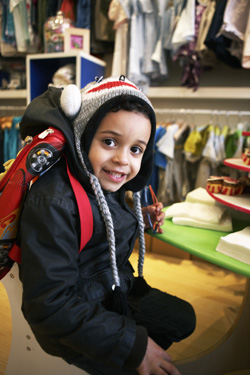 The store offers a wide range of prices (shirts run from $25-$38) and adheres to a simple aesthetic. "It's for everyone, whether you just moved to Crown Heights or you've lived here with your family for years," says Carballo, who struggled to find a children's clothing store she liked upon moving to Brooklyn in 2008. "It's clothing without letters and logos all over. It's stand-out pieces that are as appropriate for Easter Sunday as they are for hanging out in the park."
Carballo credits her opening success in large part to her close relationship with the clothing designers, most of whom live in Brooklyn and have a distinct feel for the neighborhood's needs, trends, and values. Stork is open seven days a week and donates a portion of all sales to The League Education Treatment Center, a Crown Heights agency for people with disabilities.
---
Get Your FREE Indoor Activity eGuide!
---
More Local News - Brooklyn Articles
Kings Bay Y at North Williamsburg Offers UPK
Pediatric Dental Office Opens in Greenpoint
Day Care and Enrichment Center Opens in Dyker Heights
Runnin' Wild Kids Shoes Owner Opens Toy Store
Williamsburg Kids' Salon Offers More Than Cute Cuts

Be a good fellow parent and share this with a friend who would be interested
Local Local News - Brooklyn Sponsors
See Our Local News - Brooklyn Directory