The Little Backyardigans Play Room in Brooklyn helps children transition smoothly to a full school day.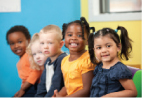 When Rosie Rodriguez, owner of The Little Backyardigans Play Room, saw that the transition into preschool and kindergarten is challenging for many children, she decided to begin a new program for kids who have never had experience with a structured school day. "This program will help ease the anxiety of parents and kids," Rodriguez says. "Children stay for two hours in a school-like environment and experience some structure to prepare them for a full day of school."
The themed classes, which meet three days per week from 8:45am to 11:15am, prepare children ages 3 to 5 for the academic and social aspects of school. Lessons include the weather, the calendar, parts of the body, colors, numbers, spelling, and, for older kids, basic writing. The program also helps children understand that there are rules and a schedule that have to be followed in the classroom, all while they interact with peers, learn, and have fun.
Registration is now open for the first semester, which begins on September 13.
The Little Backyardigans Play Room is located at 2057 Flatbush Avenue. For more information, call 347-275-8308 or visit www.thelittlebackyardigans.com.
Find more preschools and child care centers in the Brooklyn area