The Paper Bag Players, a theater company that tailors its shows to preschool-aged children, brings its "Great Mummy Adventure" show to Brooklyn's Kingsborough Community College this April.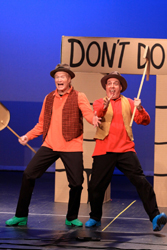 There is probably no better way to introduce your preschooler to theater than a performance by the Paper Bag Players. For the past 50 years, the players have entertained kids around the country with a blend of madcap fun, funny storytelling, and lively music. The shortened performances are just the right length to hold the attention of the young audience, and for parents who are tired of kid-centered entertainment that holds little substance, a Paper Bag performance is a breath of fresh air. It has no semblance of dumbed down entertainment, as these performers are uniquely talented to captivate preschoolers.
Founded by Judith Martin in 1958, it is the oldest operating children's theater company in America. What's unique about this company is that the players' props are composed completely of recyclable paper, everything from their stage set to their marketing materials. So instead of elaborate sets at sophisticated prices, audiences find environmentally friendly props, like cardboard boxes and household items. Kids leave with the idea that they can go home and perform their own shows.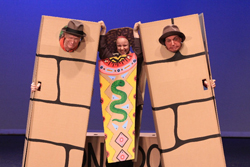 This month, the Paper Bags make their way to Kingsborough Community College to present their new show, The Paper Bag Players Great Mummy Adventure, directed by Ted Brackett. The show combines some classic "Bags" numbers created by Judith Martin, as well as many new stories and songs. The performing company includes Ted, Laura Canty-Samuel, John Stone, Amy Walsh, and Kevin Richard Woodall.
As in all Paper Bag performances, this show relies on everyday life as a backdrop to the musical theater performance. Storylines in this new show include the opening number, which welcomes the audience to the land of pharaohs and sets them on the search for a mummy named Shirley - accompanied by a camel, a desert, crooks, a treasure map, a tomb - and heavy audience participation.
Info
When: April 10 at 2pm
Where: Leon M. Goldstein Performing Arts Center, 2001 Oriental Boulevard
How much: $12
For more information: 718-368-5596; www.kingsborough.edu/events
One of the best parts of a Paper Bag show is the way the company beckons to the kid-filled audience to be part of the show. Kids play along and become the extras in a "movie," a crowd at an airport, a flock of birds, and the voice of a pharaoh's curse. Other skits include "The Lady and the Storm," about a peaceful day disrupted by a violent storm, and "Amy's Chicken," which has the audience look into the disappearance of Amy's eight-foot-tall pet chicken and Ted's missing lunchbox.
Recommended for ages 3-9. The show runs one hour with no intermission.
For more family activities and events in Brooklyn, check out our Online Calendar.