Find out which of the borough's neighborhoods are best equipped for families. Plus, read our tips on the five most important things to consider when hunting for a home in Brooklyn.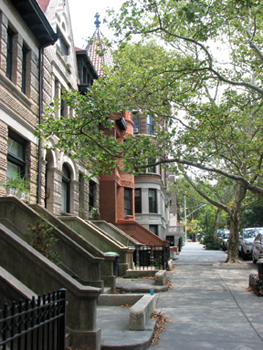 If you're considering moving to one of Brooklyn's neighborhoods, you'll soon discover that each has its own personality and quirks. Ditmas Park is colorful and ornate, an old, well-kept secret. Park Slope is established, warm, and friendly. Williamsburg: hip (hip kids included!), at once a little gritty and young and fresh. The question is: Which personality fits your family?
"In Manhattan, you move to a neighborhood based on where you work, but Brooklyn's not like that," says Alison Lowenstein, author of City Kid New York and City Baby Brooklyn, who has followed Brooklyn - and it's transition into an ever-more family-friendly borough - for more than a decade. "Where you live is all about your personality and lifestyle," Lowenstein says.
Here are the top considerations when neighborhood hunting in Brooklyn:
Where do you stand on the space versus amenities scale?
The first thing to do is walk to the "high street" of the neighborhood and look up and down the block. Are there prenatal yoga classes offered? Lots of restaurants with kids' menus? A drug store? A coffee shop with kids' music classes? "In Park Slope, you have Perch, which has a great daytime mom community, and you can leave your kid at a sitter while you shop in the Co-op," says Lowenstein, "but you'll almost definitely be making a trade-off in terms of space." On the flip side, in Sunset Park or Clinton Hill, there are fewer shops with family-specific offerings, but you'll buy yourself more space for less, along with a bit of a cool edge.
How old are your kids, and are schools a consideration?
With younger kids and first-time parents, the support network around the parent seems to be the priority. As kids get older, they need more space and autonomy, so more neighborhood-y places where they can make their own friends become more important. Lowenstein said she's had friends who were ecstatic to move to Kensington when their kids were in elementary school and beyond. "You can actually let them run down the street to the neighbor-kid's to play," she says. "Definitely not something I can do in Carroll Gardens!"
On the school tip, it's all about doing your homework. InsideSchools.org has great info on NYC public schools, including those in Brooklyn. People can anonymously post comments, so you'll get the shrewd opinion you are looking for. (And the sheer number of comments can tell you how involved parents are.) You can also check each school's official D.O.E report card at www.nystarts.gov.
How strong is the community?
Lowenstein recommends hitting up the closest playground just to see who's out and about. "You've got to ask yourself, 'Would you hang out with these people?' " she says. When she was first considering Brooklyn Heights as an option, she checked out the local park and just found nannies - not really ideal for building a social community when the kid's are young.
Keep in mind that you might find what you're looking for where'd you least expect it. "Williamsburg is really starting to have a strong family community," says Lowenstein. "There's Pies 'n' Thighs for food and the Flying Squirrel, a great clothing store." Even the swanky bowling-hall-cum-music-venue Brooklyn Bowl is starting to offer daytime programs for children. (Yo Gabba Gabba dance parties at noon? Not sure if there's a more obvious sign that families are moving in!)
What kind of real estate deals can you find?
You know those neighborhoods just on the outskirts of hipness that had an explosion of condo construction just a few years back (the Prospect Heights, Clinton Hills, and Greenpoints of the borough)? Those neighborhoods are now primed for great deals if you're on the market. Check Curbed.com or Brownstoner.com for the latest news - and loads of other great info on Brooklyn areas. (Trulia.com also provides extensive listings of what's on the market.)
Have you properly "stalked" the neighborhood?
If you've ever Googled a co-worker, why not apply the same principle - stalk a neighborhood! The best way to do it in Brooklyn is by signing up for a (mostly free) Yahoo Group. Just search for the neighborhood in question plus "parents" to see what the chatter is about. Is it an unresponsive school or the latest free concert series offered in the park? These insights can be worth their weight in gold.