The two Park Slope moms who have created a stylish maternity boutique, Bump Brooklyn, embrace the motto: "Give up wine, coffee and sushi — not fashion." 
H
annah Macdonald
and
SaSaDi Odunsi
met in a prenatal yoga class; they both gave birth to sons in 2006. Both had worked in fashion and they realized that while Park Slope and the surrounding communities had many stores dedicated to babies and children's clothes, there was nothing in the immediate area targeting moms.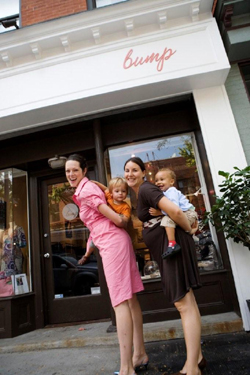 Of course, even with a 'bump' in the fertility rate, a store that focuses solely on the nine months of pregnancy, by its very nature, loses many customers quickly.  But these moms also offer clothes for new moms, including nursing bras and nursing clothing, and loose-fitting clothes for mothers in transitional body stages.  Their accessories, including skin care products and large totes that are not strictly diaper bags, would appeal even to women who don't have children.  
  Because Macdonald and Odunsi met at a 'new mommy' event, they also wanted to offer mom network opportunities, so there are monthly "Mocktail Nights" with local doulas, nutritionists, fitness experts and lactation consultants.  Although the store is too small to offer classes, the owners are committed to giving other new and expectant moms opportunities to meet and form their own groups.  
  Odunsi and Macdonald have sussed out an intriguing collection of stylish clothes for work and play. With an eye on the bottom line, most items are below $110.  The owners offer personalized styling consultations, and create registries for gifts.  
  The two moms complement each other with varied fashion experience. Macdonald, a native of Scotland, worked for Tommy Hilfiger until her son, Auden, was born.  Odunsi, mom to Ethan, worked for a luxury knitwear company in New York and the U.K., and then in fine jewelry.  So Bump features hand-knit accessories from New York designer Lara Kazan, jewelry for moms, a U.K.-based luxury lingerie line for nursing moms and pregnant women, and Basq, a New York-based skin care line that focuses on the needs of pregnant women.  
  Odunsi is one of her own best customers; she was pregnant with her second child, due this month, when the store opened.  Luckily for the fashion-conscious Brooklyn woman, Macdonald and Odunsi 'bumped' into each other. Although they are becoming a local resource, Odunsi and Macdonald hope that moms around the city will find their way to Bump Brooklyn.  But only borough residents can lay claim to the hot T-shirt they sell:  "Bumped in Brooklyn".   
The store is at 464 Bergen Street. Call (718) 638-1960 for store hours, and check soon for online shopping at
www.bumpbrooklyn.com
.