Considering a move? Here's a primer for families looking to dip into the real estate market, with advice on buying, selling, financing, and how to get the timing right.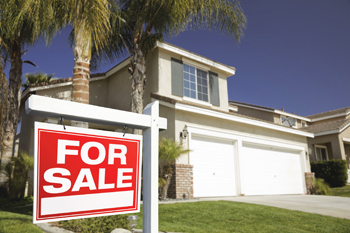 Summer is a notoriously busy time for real estate. Even in a not-so-hot economy, property demand generally builds in the spring, rising steadily with the temperatures, and sales tend to peak during the warmest months of the year. According to Zillow.com, an online real estate database, June, July, and August have seen the highest volume of home sales every year since 2000. From a family perspective, these three months are the easiest to move without uprooting the kids from school.
Relocating a family can be tough enough, but one of the trickiest aspects of moving, says Jennifer Rhodes, a licensed sales person for the Brooklyn-based Ideal Properties Group, is getting the timing right between buying and selling. Whether you're in the market for both or just beginning to consider a move, read on for some helpful, step-by-step tips.

First, Do Your Homework
"People should know everything they can about the market, including what's being sold, for how much, what things didn't sell and why," Rhodes says. An easy way to get the scoop on the real estate market, either on the local or national level, is to go online. Rhodes lists The New York Times real estate section, StreetEasy.com, and Craigslist as good preliminary resources for buyers and sellers to get a sense of what's out there. If you're using a broker, he or she will also have access to databases and inside information that the typical consumer does not, she says.

Choose a Broker
While some may be confident enough to go the process alone, others might feel more comfortable in partnering with a broker to sell their home. In the latter case, the most important thing is to find someone you trust, Rhodes says. She lists personal references as the best way to find an agent you're comfortable with. You can also do some research online or do it the old-fashioned way, by visiting agencies and holding interviews. "It's important to relate to the person you're working with because you will be working closely with them for quite a while," Rhodes says.
Prepare Your House to Sell
"If someone wants to move, they should first prepare to sell," Rhodes says, adding that this can be a lengthy process. Start with simple things like de-cluttering rooms, refinishing floors, and giving the house an exterior face-lift, which will all ensure the house shows as best as possible.
Next, you'll need to come up with a realistic price for your home, which may mean stripping emotional attachments and approaching the process purely as a business procedure. "If the property is priced way too high, it's going to be a much more difficult process," Rhodes says. "People need to be flexible and...to look at it practically."
Knowing the current market also comes back into play here, because owners need to let go of 2007 prices and weigh their home on the current economy's scale.

Get Your Finances in Order
Now is the time to iron out your finances. Your home is on the market and priced to sell. Before you start looking for your new residence, you'll need a mortgage preapproval. And of course, make sure to factor your home's approximate selling price into the budget for your new home.
Rhodes says she's currently seeing things pick up in the housing market and buyers starting to gain back their confidence, but there's still a need for caution. "A lot of things are falling apart at the mortgage phase," Rhodes says. "That's a tough area because banks are being more conservative and credit is limited."

Decide What You Want
When you're ready to start looking for a new home, first decide what's important to you and your family, including what type of neighborhood you want, what kind of space you need, and what school districts you're looking for. It can be overwhelming at first, but a good strategy is to sit down together and form an outline that you can use as a guide. "Also, try to keep perspective in what you're looking at," Rhodes says. "Don't try to see 50 places in one day. Do digestible amounts, and take the time to step back and process what you saw. Then listen to what your gut is telling you."
Finally, when you've narrowed it down, refer back to your initial research on the market to make sure you're getting a good price.