Looking for fun and low-cost kids' events in Brooklyn? We've hand-picked the best things to do this December from our full calendar of events, including holiday shows like "The Nutcracker" and "A Christmas Carol," more holiday events for kids and families, Suzi Shelton in concert, improv puppet theater for kids and adults, and classic cartoons on the big screen.
For even more upcoming kids events in Brooklyn and the NYC area, see our full, searchable calendar of events.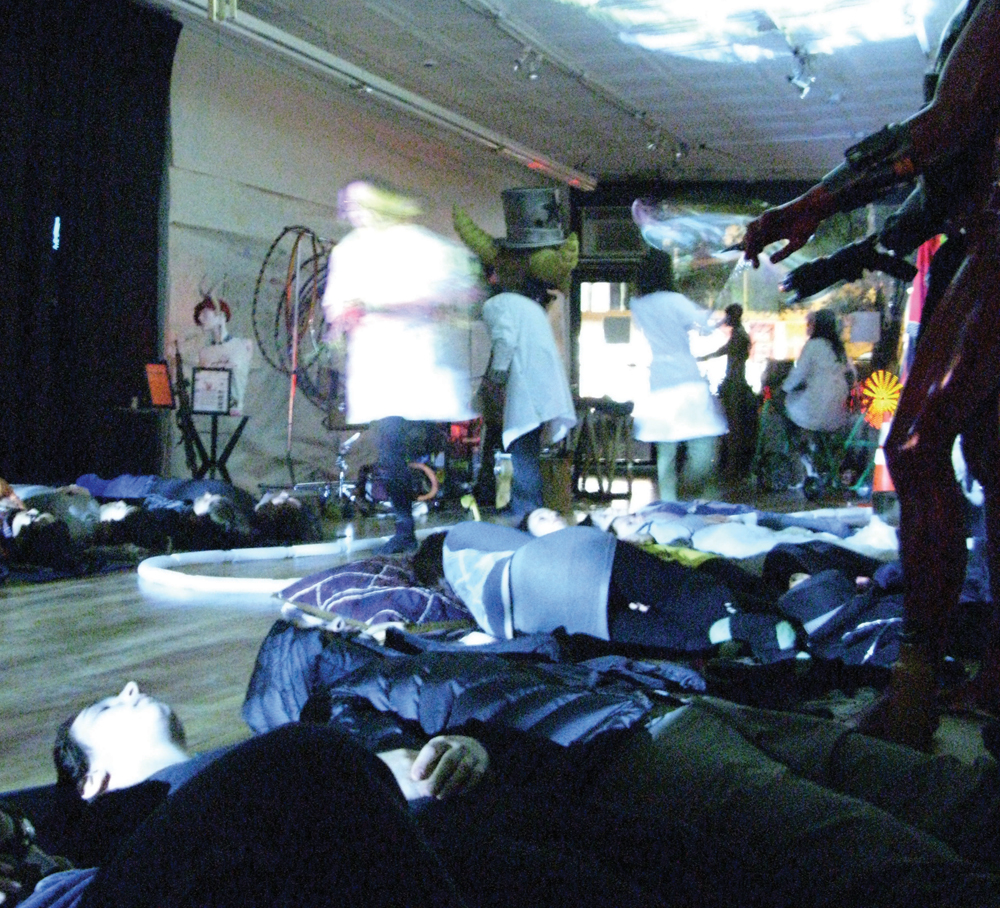 Get the Massage
Kenny Wolleson is an acclaimed drummer who has played and recorded with notables such as Norah Jones and Tom Waits. He's also a composer and sonic explorer whose Wollesonic Laboratories has devised one-of-a-kind handmade instruments like something out of a Dr. Seuss story. He deploys these instruments in a "surround" format, in which audience members lie on yoga mats while performers rotate the room, playing directly (albeit very quietly) into audience's ears and enveloping the room in music. Thus lies the bedrock of Sonic Massage, a musical yet therapeutic experience.
This special concert is specifically for kids and includes a "Show and Hear" after the performance, where children will have a chance to play some of the instruments and ask questions. December 3. 1pm. All ages. $5.
Roulette, 509 Atlantic Avenue, Boerum Hill. 917-267-0368. www.roulette.org.
Classic Cartoons
Trends come and go, but the chase is eternal! The most famous cat and mouse team, Tom and Jerry, are back for more hilarious antics on the big screen. Enjoy a selection of restored and remastered shorts, including Academy Award nominees and winners, presented by Big Movies for Little Kids. December 5 at 4pm. $7 per person.
Cobble Hill Cinemas, 265 Court Street, Cobble Hill. 718-596-9113. www.cobblehilltheatre.com.
Alcatraz...the Cat
The Philly Improv Theater, that city's leading incubator for improv, sketch, and stand-up comedy, conceived of Friends of Alcatraz, where Alcatraz is a puppet cat who, in character, is considered "the most desirable cat in the world." Alcatraz and his friends usually deal in saucy grown-up matters, yet this performance at Brooklyn Lyceum is absolutely kid-friendly. The show is fully improvised, relying on the talents of five Philadelphia-based comics, including Kelly Vrooman (host of the PBS Kids show The Sunny Side Up). There's no telling where things might go! December 10. 3pm and 5pm; an adults-only performance is at 9pm. $10; $30 for a four-ticket package.
Brooklyn Lyceum, 227 4th Avenue, Park Slope. 718-587-4816. www.brooklynlyceum.com.
Suzi with an "i"
Suzi Shelton and her band are staples of the kids music genre and have appeared live and on CD with some of its biggest names. Kids love Shelton's bouncy pop/rock tunes, some relating to sensorial themes like being airborne ("Lift Me Up") and going really fast ("Mama's House, Daddy's House"). Shelton often includes an extended ensemble of horns and backing vocals led by her daughter and other kids, yielding a rollicking celebration of silliness and innocence. Her songs feature enough wit to keep adults interested, too. Her musical range is by turns delicate and soothing, featuring a solo acoustic guitar, and elsewhere upbeat, funkified, and rhythmical, with electronic flourishes and lots of guitars. December 11. 11:30am-12:30pm. $12.
The Bell House, 149 7th Street, Gowanus. 718-643-6510. www.thebellhouseny.com.
Sugar Plum Fairies
Tis the season of The Nutcracker. There must be at least 20 productions throughout the area of this classic ballet, which, since the mid-20th century, has been a holiday season fixture. The libretto, derived from a story by E. T. A. Hoffman, is centered upon a Christmas eve tree-trimming party where the gifts become animated, particularly a wooden nutcracker carved in the shape of a little man. It's pure fantasy and a perfect vehicle for classical ballet. Among the highlights is the orchestral score by Tchaikovsky, considered one of the composer's most popular works and containing some of his most famous melodies. Brooklyn Academy of Music's two-week run of The Nutcracker is considered to be among the best in New York City. Performed by the American Ballet Theater, a full orchestra, and larger-than-life sets and scenes, the production has earned acclaim in previous seasons. December 14-31. Call or check website for show times. $25-$120.
Brooklyn Academy of Music (BAM), 30 Lafayette Street, Fort Greene. 718-636-4100. www.bam.org.
Decemberists
December is a head-spinning month, with plenty to do in Brooklyn around holiday time. Here are a few ideas for you and your family:
Brooklyn Children's Museum hosts Light of Our Lives, a class that explores how the theme of light, especially when provided by candle, figures into the stories and traditions of Kwanzaa, Christmas, Hanukkah, and Diwali. Children will hear stories about religious holidays and create a light-inspired craft. December 24. 2:30-3:30pm. $7.50.
Brooklyn Children's Museum, 145 Brooklyn Avenue, Crown Heights. 718-735-4400. www.brooklynkids.org.
One of the truly wonderful Christmas stories is Charles Dickens' A Christmas Carol. Brooklyn Lyceum's puppet production of this timeless tale features fabulous sets and costumes on handcrafted marionettes, all of which convey the anti-humbug message in a child-friendly way. December 11. 3pm, 5pm, and 7pm. All ages. $10; $30 for a four-ticket package.
Brooklyn Lyceum, 227 4th Avenue. Park Slope. 718-587-4816. www.brooklynlyceum.org.
On Christmas day, celebrants of Hanukkah will enjoy spinning dreidels, making menorahs, earning gelt, and hearing the amazing story of Judah and the Maccabees at the Jewish Community House of Bensonhurst's Chanukah Festival. December 25. 12-3pm. All ages. FREE.
Jewish Community House of Bensonhurst, 7802 Bay Parkway, Bensonhurst. 718-331-6800. www.jchb.org.
Kwanzaa is celebrated full-force at Brooklyn Children's Museum's Kwanzaa: A Celebration of Family, Community, and Culture. Kwanzaa is exactly that, and participants will become familiar with the holiday's traditions and African roots. December 29. 2:30-3:30pm. All ages. $7.50.
Brooklyn Children's Museum, 145 Brooklyn Avenue, Crown Heights. 718-735-4400. www.brooklynkids.org.
Star of Staten Island
Harbor Lights Theater Company presents Amahl and the Night Visitors, the classic tale of three kings and a disabled child named Amahl, December 9-11 and December 16-18. Fridays at 8pm; Saturdays at 3pm and 8pm; Sundays at 3pm. $30; $25 seniors and students.
Veteran's Memorial Hall at Snug Harbor, 1000 Richmond Terrace, Staten Island. 718-273-7516. www.harborlightstheatercompany.com.