Parents and their children volunteered to transform an overgrown lot into the South Brooklyn Children's Garden by building raised beds and planting vegetables. The South Brooklyn Children's Garden will offer a variety of programming for children beginning with the 2013 growing season.
On Aug. 18, more than a dozen families met in a vacant, overgrown lot at 204 Columbia St. to dig up weeds, till the soil, plant vegetables, and ultimately claim the space as the South Brooklyn Children's Garden. The goal of the new garden is to provide local families with fresh produce and create a community space where kids can learn about gardening, composting, and water harvesting while developing a connection to their food sources.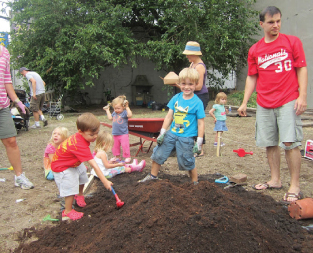 Samantha Hoover
Volunteers also planted cauliflower, broccoli, kale, chard, and lettuce, helped to get a "worm house" (for vermicomposting) up and running, and also developed a three-box composter for garden trimmings.
With more than 70 children members from the community part of the South Brooklyn Children's Garden, the community garden plans to have children's programming open to the public beginning with the 2013 growing season. The garden's mission is to promote a healthy lifestyle, show kids the connection to food sources, and demonstrate how gardens support the local eco-system and enviornment.

The community garen aims to become a place for neighborhood children to learn, play and get their hands dirty together, and also expects to serve approximatly 500 neighborhood children each year through classes, programs, and events.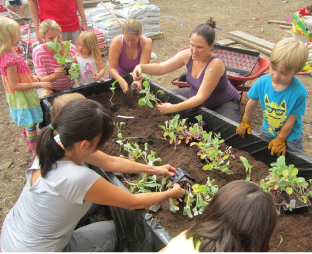 Samantha Hoover
Programming may include a "bug club" that teaches the difference between good and bad bugs; chicken feeding and egg collecting that invites children to help care for the garden's pet chickens and to pick up eggs laid; seed planting where children learn how to plant vegetable seeds.

For updates and information on how to become a member, visit sites.google.com/site/southbrooklynchildrensgarden.