PLEASE NOTE: This article was published in 2009. Some information may be outdated. Please call to confirm donation and/or volunteer information for the current year.
---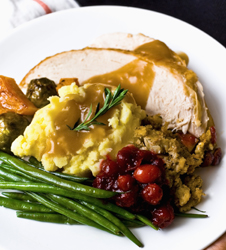 Give back this Thanksgiving by volunteering in your community. Whether it's by giving your time, money, or food donations, you can make a difference. The following locations in Brooklyn need your help. Call ahead to confirm details.
CHIPS Soup Kitchen needs volunteers for its soup kitchen and the Frances' Residence for Homeless Mothers and their Children. Call 718-237-2962 or email [email protected] to make an interview appointment. CHIPS also accepts monetary, clothing, and food donations. Located at 200 4th Avenue. For more information visit www.chipsonline.org.
The Greenpoint Interfaith Food Team needs volunteers for its bag lunch distribution, soup kitchen, and food pantry. Located at the Greenpoint Reformed Church, 136 Milton Street. For more information visit www.greenpointchurch.org.
Masbia Soup Kitchen serves kosher meals five days a week (Sunday, Monday-Thursday) from 4-5pm. You can donate money towards meals online at www.masbia.org or mail your donation to P.O. Box 191181, Brooklyn, NY 11219. If you're interested in volunteering on a permanent basis or donating goods, call 718-972-4446, email [email protected], or visit Masbia at 4114 14th Avenue.
Neighbors Together Soup Kitchen at 2094 Fulton Street needs volunteers to help prepare and serve lunches and dinners. Those interested should contact Ed Fowler at 718-498-7256 or [email protected]. Monetary donations are also accepted. For more information visit www.neighborstogether.org.
The Salvation Army has several Brooklyn locations, including 252 86th Street in Bay Ridge (718-238-2991) and 520 50th Street in Sunset Park (718-438-1771). Call for volunteer opportunities or for instruction on how to donate money, food, and/or clothing.
St. John's Bread and Life's Soup Kitchen serves breakfast and lunch Monday-Friday at 795 Lexington Avenue. It also has a Mobile Soup Kitchen unit. Monetary donations are accepted as well as food, hygiene products, toys, and clothing (no used goods). To volunteer, sign up online at www.breadandlife.org. For more information, call 718-574-0058.
These Catholic Charities Neighborhood Services food pantries provide emergency food to families and accept food donations year round:
Brooklyn West Community Center; 191 Joralemon Street, 1st Floor; 718-722-6001
Our Lady of Angels Home Services; 336 73rd Street; 718-680-6344
Dr. White Community Center; 200 Gold Street; 718-875-8801
St. John's Food Pantry; 75 Lewis Avenue; 718-455-6864
Sacred Heart Church; 41 Adelphi Street; 718-625-5115
Canarsie Cluster/Our Lady of Miracles Parish; 757 East 86th Street; 718-257-2400
Holy Innocents Church; 279 East 17th Street; 718-469-9500
Our Lady of Solace Shrine; 2866 West 17th Street; 718-722-6001
St. Marks Roman Catholic Church; 2609 East 19th Street; 718-891-0443
St. Gregory the Great Food Pantry; 244 Brooklyn Avenue; 718-773-0100
Many other parishes in the Brooklyn area run soup kitchens and food pantries for the homeless and hungry. Contact your local parish or religious institution to find out how you can help.